"Music needs poetry" - interview with Catalan electro band, Jansky
Posted on: 1 November 2016 by Lisa in 2016 posts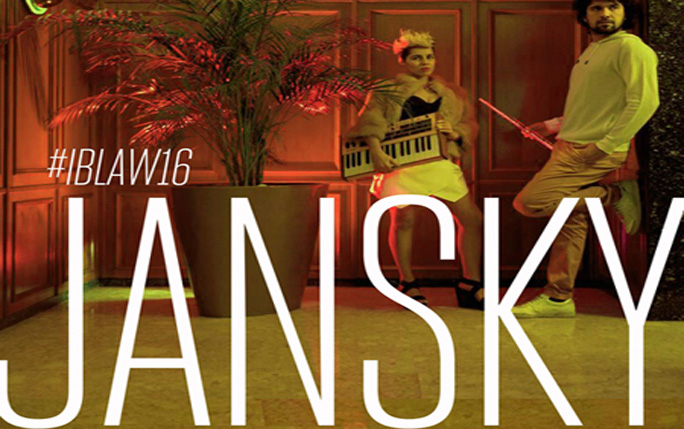 This week we spoke to Catalan band Jansky about electro music, troubadours and Catalan culture, as well as finding out more about their improv workshop for Iberian and Latin American Week 2016.
Liverpool is renowned for being a vibrant and creative city – especially for music and poetry! Did this influence your decision to come to Liverpool to be part of Iberian and Latin American Week?
Actually, this isn't the first time we've been to Liverpool! In 2014 Jansky played at Liverpool Sound City and we spent a few days exploring the city. The festival is awesome, we felt very welcome by Scousers and we believe we clicked with the audience. Everyone is so considerate with live musicians and music appears as a natural urban element. So when University of Liverpool invited us to come back, we didn't hesitate for a second.
Last time we visited Liverpool we bought the famous book on Merseyside poets (Henri, McGough and Patten) and from there we realized how important they'd been as popular poets and also how they had influenced music of those days.
Your sound is a mix of electro and spoken word – how did these two elements end up coming together?
Well, each of us was working separately with a similar approach: there's no poetry without music, but music needs poetry too.
Our project began with a beatbox flute and the verse... we would jam together with a much simpler set. But then we came up with ideas on how to make it more upbeat, even danceable, and the electronics came in.
We introduced effect pedals (for the flute and the voice), which we blended together using loops, delays and so on. And the synthetizers are played live, together with the organic samples that we record ourselves (including birds, i.e.) They reinforce the meaning and/or the atmosphere of the songs.
What do you think your poetry and music can tell us about Catalan culture?
First of all, Catalan literature is enormously rich in poets and has also a great tradition of trobadours. In a way, we are continuing this legacy and updating both the format and the contents (lyrically and musically speaking). On the other hand, the fact that we experiment and use modern languages (spoken word and new digital tools) proves that ours is a living culture, working from local to global and aiming at the future.
Jansky come from the island of Mallorca: the Mediterranean bathing our shores means cultural interaction, amazing landscapes and a very rich biodiversity. This is why you can hear recordings of birds from the wetlands (such as the Night heron or the Stone-curlew), sticks and branches from almond or olive trees, and so on. It's like a postcard with sound.
And, on top of that, if you are able to understand the lyrics, you can hear songs about treasure caves and environmental and current social issues.
What can we expect from your poetry and music workshop – are you hoping to encourage some improvisation?
We want to show why poetry is still essential in contemporary musical genres (i.e. electronic music) and how Catalan language and its phonetics work perfectly in such an ethereal context. The words also make the beat and harmonies and melodies contribute to the poetic image.
The idea of the workshop is that students find out themselves through improvisation: we expect to get a track with participation of the students from every workshop, so come and share your inspiration!
Don't miss Jansky this week...
Wednesday 2nd November
11am Catalan poetry and music workshop: "Poets to the dancefloor, dancers to the (uni)verse!"
Rendall Building, Seminar Room 4
7pm Live performance
The Caledonia, 22 Caledonia Street

Find about more about our Iberian and Latin American Week events and let us know what you think using #IBLAW16 and @livunilanguages
---