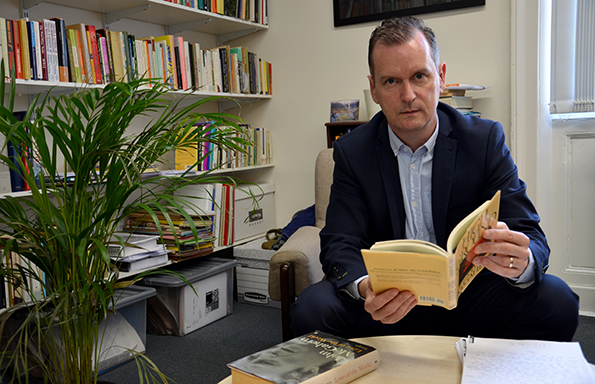 Professor
Frank
Shovlin
B.A., M.A., M.St., D.Phil.
Professor of Irish Literature in English
Institute of Irish Studies
Teaching
I have taught -- or am teaching -- on the following undergraduate modules:

FIRST YEAR
• Irish Writing from Swift to Yeats.
• Irish Writing from Joyce to Heaney.

SECOND YEAR
• The Irish Literary Revival.
• The Irish Novel after Joyce.
• 'A Terrible Beauty': The Life and Works of W. B. Yeats
• Experiments in Irish Fiction
• Banned: Fiction, Sex and the Limits of Decency
• The Practice of Irish Studies

THIRD YEAR
• Contemporary Irish Drama
• Irish Poetry After Yeats
• James Joyce: A Writing Life
• Undergraduate dissertation

Irish Literature in English
I teach a wide range of material on the subject of Irish literature in English from eighteenth-century figures such as Jonathan Swift and Oliver Goldsmith to more contemporary writers like Michael Hartnett and Rita Ann Higgins. I have a special interest in twentieth-century Irish literature and in particular the period around the literary revival.