After COVID-19: Is Liverpool Still Beyond or Back on the Brink?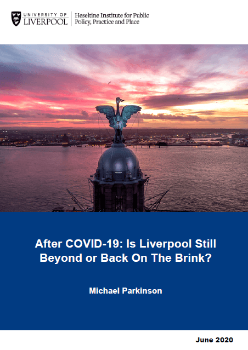 In this paper, Ambassador for the Heseltine Institute, Professor Michael Parkinson, looks at the Liverpool COVID-19 story so far – considering the likely impacts on the city, as well as the implications for policy-makers as they respond to the pandemic and its after-effects. The paper takes as its point of departure two books by Professor Parkinson: Liverpool on the Brink (1985), which described the city's virtual collapse; and Liverpool Beyond the Brink (2019), which told the story of Liverpool's continuing, if incomplete, renaissance during the last 20 years.
Although Liverpool has faced – and weathered – many economic, social and political storms during the past 40 years, the paper demonstrates that COVID-19 is bigger than any of the recent crises it has faced, with the pandemic raising questions about the sustainability of the city's recent achievements and its capacity to cope with such challenges in the future. Yet, the paper also identifies varied reasons for cautious optimism – arguing that the way the city, its leaders and people have responded so far to COVID-19 shows they have the assets, experience, resilience, commitment and ingenuity to triumph over adversity.
This paper has been accompanied by a companion piece in our COVID-19 policy briefs series, and was the focus of a panel discussion, in July 2020, that featured prominent figures from the local cultural and economic sectors.
Click here to read the full report: After COVID-19: Is Liverpool Still Beyond or Back on the Brink?