Alumni and Friends Fund applications open for 2022/23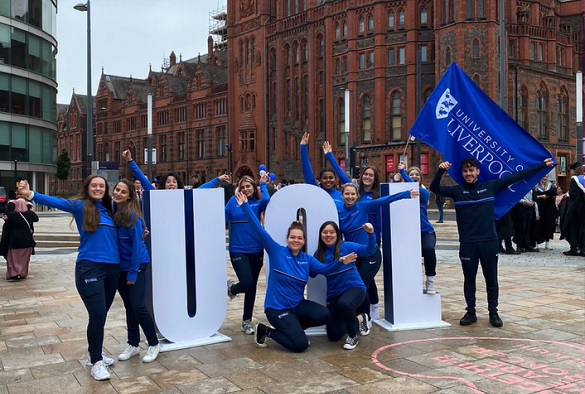 After another brilliant year for our Alumni and Friends Fund grant recipients, today we are excited to open applications to students and staff for 2022/23. From now until Friday 4 November, students, societies, and staff at the University of Liverpool are invited to submit applications for funding to support projects to enhance the student experience.
Thanks to the generous donations of alumni and friends, last academic year, the grant was awarded to nine projects which met a variety of different needs, including supporting the Liverpool Women's Handball team to attend their first European Championships.
After being included as a BUCS (British Universities & Colleges Sport) sport for the first time in 2020/21, the Liverpool women's team made their mark by achieving second place at the BUCS National Championships. When this qualified them for the European University Championships in Łódź, Poland this summer, the team wanted to make sure that no student missed out on this opportunity due to financial difficulties.
On being awarded to Alumni and Friends Fund grant to support the cost of the entry fee for the competition, the team said: "Thank you to the supporters of the Alumni and Friends Fund! Handball is a very small sport in the UK; our clubs rarely have an opportunity in European competition and our national teams sometimes can't even compete in qualification tournaments. This is a once in a lifetime opportunity for every single player on the women's team. Hopefully, they can be good ambassadors for our university and raise the profile of our sport."
Other projects in receipt of the Alumni and Friends Fund Grant last year include:
Building a wildlife pond on campus to support student and staff wellbeing
Supporting the Scouser Space Society in attending a satellite building competition organised by Orbital Astronautics and purchasing essential components to build the satellite
Replacing worn and old equipment for the Canoe Team including purchasing a new boat, paddles, and helmets to help the team grow
Supporting training for the University's Menopause Support Network which is open to both students and staff
Launching a series of sustainability workshops for up to 100 students from all disciplines to explore the interdisciplinary nature of the Sustainable Development Goals
Replacing tired and damaged pom poms for the Liverpool Foxes Cheerleading team
Expanding the development of the Experimental Archaeology Centre at the University's Botanic Gardens at Ness, including extending the workshop area creating a flexible open space for research and teaching across a wide range of ancient technologies
If you would like to support the Alumni & Friends Fund grants and help to get life-changing student and staff-led projects off the ground, you can donate to the Areas of Greatest Need on our single gift page or set up a regular gift here.
If you are a student or staff member with an idea, don't forget to apply for the fund on our website. Good luck!