Inger Eagle's legacy to Ness Botanic Gardens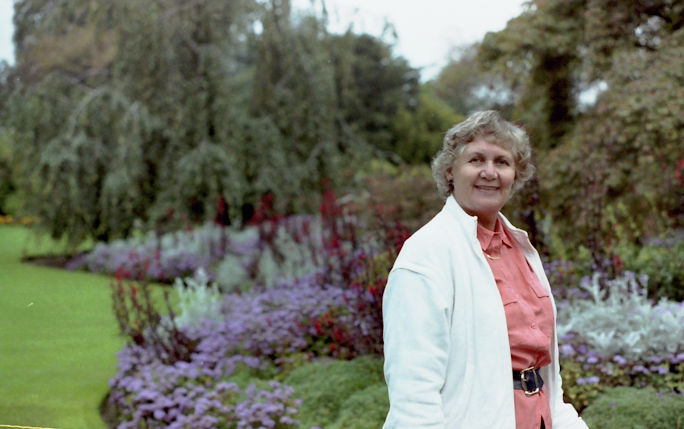 Throughout its history, Ness Botanic Gardens has been privileged to have received many donations given through gifts and legacies. Each wonderful gift received has helped to protect and maintain these beautiful gardens which have been treasured for over 100 years by its staff, volunteers, members and visitors.
Last year, Ness Botanic Gardens were most privilaged to receive a legacy gift from the late Mrs Inger Eagle, who had been a member of Ness for many years. Mrs Eagle's gift was used to enhance and maintain the Mediterranean bed at Ness. It was thought fitting to use her gift in this special way, as her son and daughter shared their mother often took inspiration from flora at Ness in caring for her own garden. One of her joys in life was seeing her daffodils and pink camellias flowering each spring.
Originally from Bergen, Norway, Mrs Eagle moved to Meols on the Wirral with her husband and their family in 1964. It was during this time she discovered Ness Botanic Gardens and fell in love with its beauty.
Mrs Eagle visited the gardens often with her children and her 3 grandchildren. Favorite walks at Ness included taking in the stunning panoramic views across the River Dee to the Welsh mountains, before heading to the café for tea and cake. The gardens were a favorite place to visit, especially during her retirement from teaching primary school children in a local special education needs school.
Mrs Eagle's keen enthusiasm for outdoors pursuits and love for socialising was apparent throughout her life. Despite encountering mobility problems later in her life she continued to visit her beloved Ness – making use of a motorised scooter.
Inger so loved Ness that she left a gift to the gardens in her will, written many years before her death in 2019 at the age of 92.
Mike & Nanda (son & daughter of the late Inger Eagle)

If you would like further information about supporting the University or Ness Botanic Gardens through your Liverpool legacy, please contact Carolyn Jones, Legacy Officer, via: carolyn.jones@liverpool.ac.uk or visit: liverpool.ac.uk/giving/legacies.