Name a Seat Stories: Celebrating 50 seats remaining in The Tung Auditorium
The Name a Seat campaign has now reached a new milestone with fewer than 50 seats remaining to be named in the 400-seat Tung Auditorium. The campaign was part of the wider fundraising efforts to bring a new visionary space on campus, the Yoko Ono Lennon Centre. The Centre with exception of The Tung Auditorium opened exclusively for teaching at the beginning of the academic term and will open its doors to the public in spring.
As well as choosing a message or name to be engraved on a seat in The Tung Auditorium, many alumni and friends of the University have shared the special stories behind their seats, some of which are included below:
"Lynne Staunton-Jones and I are honouring the memory of our friend and co-worker, Julie Clarke. Julie was a much-loved member of the Human Anatomy Resource Centre (HARC) who sadly passed away in 2020. We look forward to watching many wonderful performances in the new auditorium whilst reminiscing about her life and good humour." Professor Nathan Jeffrey, Director of HARC and Professor of Evolutionary and Comparative Anatomy, Institute of Life Course & Medical Sciences, University of Liverpool
_____________________________________
"I bought this seat for my good friend Aakil, to let him know how proud I am of him gaining his place at the University of Liverpool to study Psychology. The Yoko Ono Lennon Centre is just one of the amazing University of Liverpool buildings Aakil gets to go to, to attend his lectures and study hard so that he becomes one step closer to achieving his dream job. I have every faith in him, and I hope his enthusiasm and talent for the subject serves him well and with the guidance of this wonderful University, I know he will flourish into so much more. By donating this money in his name, I hope it helps others pursue their dreams here the same way the University of Liverpool is helping him achieve his. 'We make a living by what we get, but we make a life from what we give.'" Sanaa Ahmed
_____________________________________
"I was very lucky to read Law at the University of Liverpool where I met some life-long friends with whom I am regularly in touch. I had little idea what to do career-wise, but the LLB lead to life as a solicitor". Peter Dickinson (LLB Hons Law, 1967)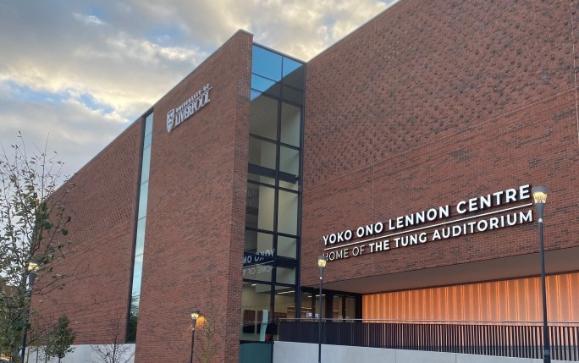 The Yoko Ono Lennon Centre combines exemplary teaching and learning facilities including the state-of-the-art 600-seat Paul Brett Lecture Theatre, the largest purpose-built lecture theatre on campus. Not only offering students a world-class teaching experience the Centre will also support a wide range of activities including the Music Department's popular Lunchtime Concerts series bringing the student and local community together.
To find out more about the campaign please visit our website or email: giving@liverpool.ac.uk for more information.