Name a Seat Stories: Celebrating 300 seats named in The Tung Auditorium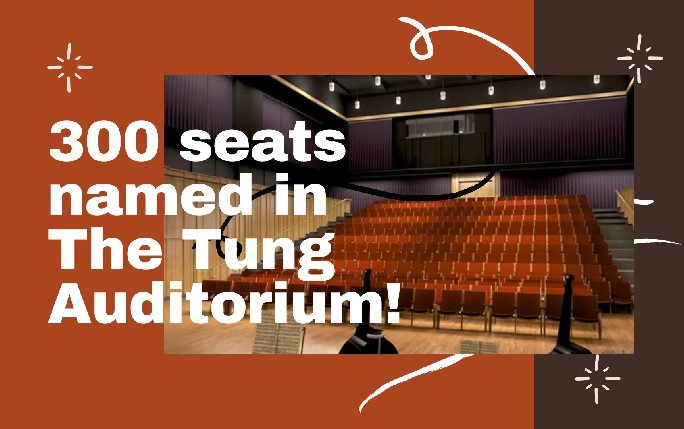 The Name a Seat campaign has reached a new milestone with more than 300 seats now named in The Tung Auditorium. The campaign was launched to support the introduction of a new visionary space on campus, the Yoko Ono Lennon Centre which will open its doors to the public next spring.
Ivy Sala, Regular Giving Manager said: "The support from our alumni and friends has been remarkable. I would like to thank all who have chosen to play a special part in this campaign and for sharing their wonderful stories. It is clear how music has played a monumental role in people's lives; bringing great joy and unforgettable moments to friends and family and helping us to deal with some of the toughest of times. The past year has been a challenge for many of us, but now we are looking to the future with hope, and we can't wait to welcome you all to the Yoko Ono Lennon Centre in the spring."
Many alumni and friends of the University have also chosen to share the extraordinary stories behind their gifts in our Name a Seat stories series, and we are delighted to share some of these special stories with you below:
"My parents attended the University, and it is where they met. Myself and my twin sister also attended. It is very much a family institution as many of my aunts and uncles also graduated from Liverpool too! My mum has been Head of Music at her school for the last 34 years, with my dad also teaching at the same school for 25 years. Both retired this year and I thought it would be a lovely way to commemorate their teaching achievements.
I studied Combined Honours – Mathematics and Music, and my sister studied Music. During our time at university, we were involved with the Music society – being co-managers of the Symphony Orchestra for 2 years which gave us skills that we both use in our jobs today. We are so excited to be part of the new venue that will continue bringing music to the University and community." Amy Fazakerley (BA Combined Honours, Mathematics and Music 2017)
______________________________________________________
"As a former student of the University of Liverpool, I was always aware of the Beatles' music connections to the city. My son grew up listening to the Beatles and loves their music as I do. These early music influences inspired him to become a musician and guitarist who enjoys playing music to people whenever he can." Peter McHugh (MCivic Design 1993)
_____________________________________________________
"My wife and I are both graduates of the University of Liverpool and we have fond memories of our time in Liverpool in the 1980s. Two of our four children are more recent graduates of the university and one of them is about to continue with postgraduate study. Further, we all partake in the wonderful Continuing Education provision. With such a strong family affinity with the university, it is a pleasure to give something back for the benefit of future students." Paul Everett (BA Hons History 1995)
_____________________________________________________
"Growing up close to Liverpool, my parents took me to as many plays, shows and concerts as they could afford. I have so many memories of shows at the Liverpool Empire, The Playhouse and The Everyman theatres and concerts at the Royal Philharmonic. Later, as a University of Liverpool student from 1992-1995, I was grateful to continue to attend many events thanks to the generously priced student tickets. I wish my parents could see how the legacy of that investment continues through to their grandchildren, who are both pursuing further education in the Performing Arts in the USA. Both of my parents grew up in Liverpool and were part of that exciting time of the Beatles, the Cavern and so on. I know they would have been excited to see a new performing arts venue in the city and I'm grateful to have the chance to name a seat in their honour and in recognition of my education I received at the University of Liverpool." Clara Hardy (BSc Hons Zoology 1995)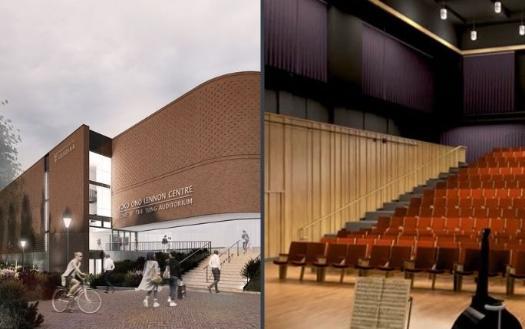 The Yoko Ono Lennon Centre will sit amongst Liverpool's greatest music venues. The Centre will not only offer students a world-class teaching experience but will also support a wide range of activities including the Music Department's popular Lunchtime Concerts series bringing the student and local community together.
To find out how you can play your part in the final months of this campaign, please visit our website or email: giving@liverpool.ac.uk for more information.