Name a Seat Stories: The personal stories behind the plaques, part twelve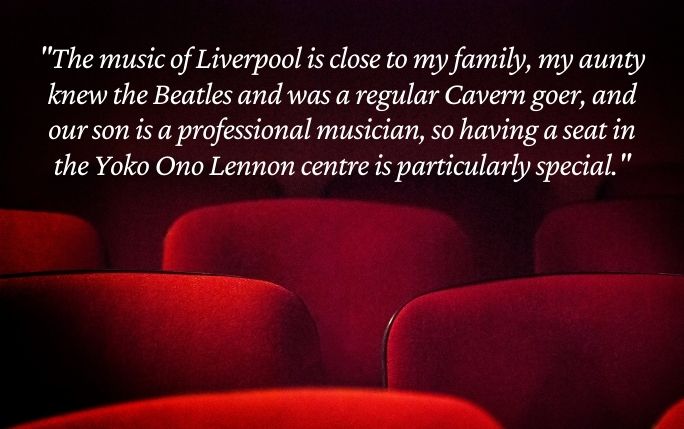 We are delighted to bring you some more of the wonderful stories of shared by alumni, staff and friends of the University who have chosen to name one of the 400 seats within The Tung Auditorium.
"I have worked as a lecturer of Irish literature at the Institute of Irish Studies here since 2000. I had never visited the city prior to my interview but fell in love with it immediately. My late father-in-law, to whom I am dedicating the seat, loved visiting my wife and I here over the years. He died in 2016 in his native Galway just a few short weeks after his final visit to Liverpool. The Gaelic dedication 'Gra agus Solas' means 'Love and Light' and was a favourite greeting of his". Professor Frank Shovlin, Institute of Irish Studies at the University of Liverpool
_______________________________________________________
"I attended the University between 1975 and 1978 and gained a BEng in Mechanical Engineering, I started a career in the automotive industry, spending ten years in the industry, before joining my family business in the mechanical construction sector, I have now recently retired from the business. The plaque is a dedication in memory of my eldest son who died in an accident in 2012. He too went into engineering gaining a Master's degree from Leeds, but he also loved music and travel and I thought this would be an appropriate dedication in his home city and this new music centre." Mr Richard Ventre (BEng Mechanical Engineering 1978)
_______________________________________________________
"I attended the University from 1965 -1969 and my wife did her nursing/midwifery training at Walton Hospital & Oxford Street Maternity, Liverpool from 1967-1971. We both had fond and happy memories of being in Liverpool during that time, although we did not meet until 1975 and got married in 1977." Mr Colin Charley (BSc Oceanography 1969)
_______________________________________________________
"Joanne and Philip Holley (born Herzsprung) met at Derby & Rathbone Hall in 2005. Both graduated in 2008. Joanne graduated with a BSc in Pharmacology and Philip with a BSc in E-Business. They moved to Switzerland, married in 2013, and settled in Berlin (Germany) with their daughter, Philippa Joan Holley." Mrs Joanne Holley (BSc Pharmacology 2008) and Mr Philip Holley (BSc Hone E-Business 2008)
_______________________________________________________
"This is a gift for my husband for our 30th (pearl) wedding anniversary. We met while he was studying for a PhD in Physics at Liverpool, I had graduated the year before from a BA Combined Hons and came back to Liverpool to work. I went on to take my PGCE at Liverpool too, and we married in 1991 at St. Matthew and St. James church, opposite Rankin Halls where I spent my first year as a student.
Stuart is Liverpool born and bred and half my family are from the city. Although we have moved away, it remains in our heart, our daughter was born there, and we visit regularly. The music of Liverpool is close to my family, my aunty knew the Beatles and was a regular Cavern goer, and our son is a professional musician, so having a seat in the Yoko Ono Lennon centre is particularly special." Jools Abrams-Humphries (BA Hons Combined Honours 1988, Certificate in Education 1992)
The Tung Auditorium will be located at the heart of the Yoko Ono Lennon Centre. With just under a year until the Centre's opening, we are incredibly thankful to the support we have received so far. To date, more than half of the seats within The Tung Auditroium have now been named.
If you would like to part of this legacy, visit our dedicated webpage. If you would like to share your story please email: giving@liverpool.ac.uk
We've saved you a seat...now put your name on it