Cross campaign support from alumna Dr Catherine Abou-Zaid Gordon EdD MSC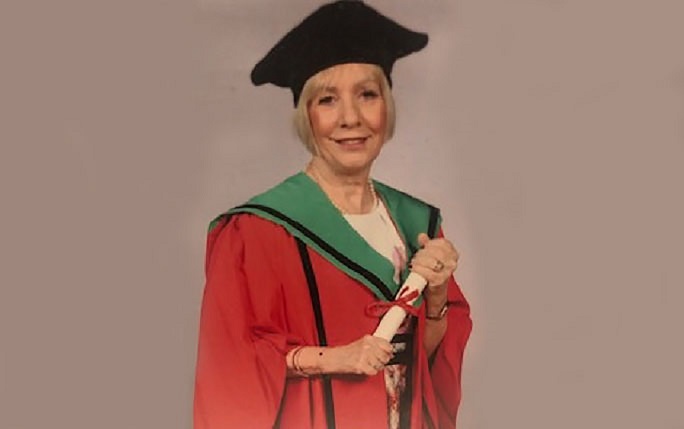 As part of the University of Liverpool's COVID-19 Emergency Response Campaign, the University's community of staff, students, alumni and friends have collectively risen to the challenge and quickly adapted their daily lives to support the ongoing challenges presented by the pandemic. COVID-19 researcher and University of Liverpool alumna, Dr Catherine Abou-Zaid Gordon EdD MSC shares her remarkable story and more about the projects she is supporting.
As a child growing up in the small town of Penicuik, outside Edinburgh, Dr Catherine dreamt of graduating from a University but was instead encouraged to enter into the world of employment by her parents. After seven years of working, Catherine decided to go into nursing and has since enjoyed a varied career travelling across the world. Catherine said: "I settled in Bahrain and it was from here I did my Masters in Healthcare Management at the Royal College of Surgeons in Ireland Medical University (RSCI) in Bahrain while working in the Mohamed Bin Khalifa Cardiac Centre. While doing my Masters I was offered a lecturer's position at the RSCI in Bahrain, and shortly after began working on my Doctorate degree with the University of Liverpool. I left the role at the RCSI University after 9 years and returned to the Cardiac Centre to take a position teaching new graduates and implementing research."
Dr Catherine has recently begun her fourth research project in three years, focusing on the anxiety and stress levels of staff during the current pandemic within the Cardiac Centre where she works. Catherine said: "The study is an explanatory sequential design using mixed methodology using an online survey questionnaire with statistical analysis. The qualitative aspect of the study will be one-to-one interviews with thematic analysis. The tools used were the 'General Anxiety Disorder Scale' (GAD) and the 'Perceived Stress Scale' (PSS). The recommendations from the study should help now and in the event of any future pandemics."
Alongside the COVID-19 Emergency Response campaign, the University of Liverpool has continued to fundraise for the new Yoko Ono Lennon Centre, largely through our Name a Seat campaign, of which Dr Catherine is also a supporter. Catherine said: "I made a donation to the new Yoko Ono Lennon Centre as the University of Liverpool has given me help and support during my studies and gave me the opportunity to live my dream of obtaining my Doctorate Degree in Higher Education. The fact that it is a music centre was just wonderful as I feel music was my first love and as I was an aspiring musician myself, although my family would say otherwise!"
For her philanthropic support of the University, and her research supporting the COVID-19 pandemic, we are incredibly grateful to Dr Catherine.
If you would like to share your story with us, please email: giving@liverpool.ac.uk. To find out more about our COVID-19 Campaign, please visit our website. For more information about naming a seat in the Tung Auditorium within the Yoko Ono Lennon Centre, please visit our campaign page.