New 600-seat lecture theatre named after alumnus Dr Paul Brett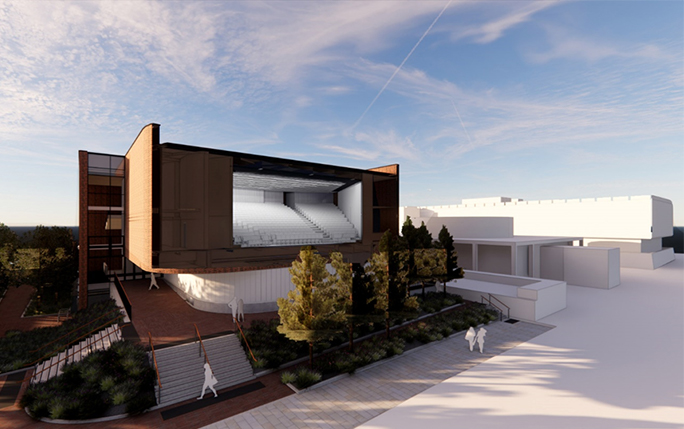 Long-standing supporter and donor to the University, alumnus and honorary graduate, Dr Paul Brett (BA Hons Geography 1965, Hon LLD 2017) has provided further support to a crucial University of Liverpool project that will revolutionise the learning experience of our students.
The Paul Brett Lecture Theatre is a 600-seat, state-of-the-art, facility which will afford Liverpool students with transformational teaching and learning opportunities and outcomes.
Located within the University of Liverpool's new Yoko Ono Lennon Centre and across both the first and second floor of the Centre, it will be the largest purpose-built lecture space on campus. Also providing the latest audio-visual equipment, it will not only become – from September 2021 – an advanced learning environment for students across multiple disciplines, but will also act as a venue for public lectures, allowing the University to engage broader communities and audiences.
Paul studied Geography in Liverpool, graduating 1965, spending thereafter the majority of his career in the travel industry, and is the former CEO of Thomson Travel Group, now TUI UK. He has also served as a Director of a number of high-profile companies including Chapel Down Wines.
In 2014, Paul made a significant donation to support the University's dedicated MBA teaching facility in the Management School which was named the Brett Building in memory of his late mother, Kathleen Brett. Then, in 2018, Paul supported the Management School further and created the position of Chair to be held by the School's Dean, entitled, the Brett Chair in Management. This position is currently held by Professor Julia Balogun, who was appointed Dean in 2015 and has led the School to successful achieving AACSB accreditation.
As well as generous philanthropic contributions to the University, Paul has also given his time to support MBA students by acting as a guest speaker to this cohort, sharing his wealth of knowledge and experience with them.
Paul said: "I strongly believe in the provision of a first class university education, which is why I am pleased to support this splendid project at the University, and to put my name to one of the new lecture theatres. I studied Geography at the University in the 1960's, and I believed then, as I do now, that excellent teaching facilities helps to equip students with the knowledge and skills they will need to fulfil their potential."
Professor Dame Janet Beer, Vice-Chancellor, University of Liverpool, said: "Over the years, Paul has supported the University's efforts to provide students with an outstanding education, enabling Management School students to fulfil their potential as creative and culturally rich graduates. This new and exciting development will have a real impact on the lives of even more of our students. It will ensure they are taught in a purpose-built environment, further enhancing their student experience, and for that we can't thank Paul enough."