WATCH: A celebration of music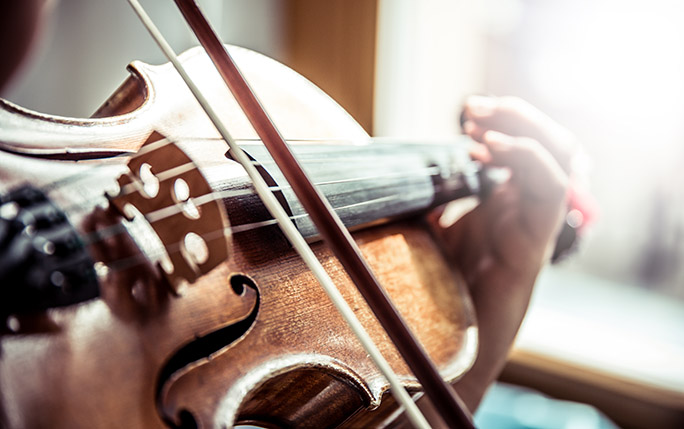 Alumni and other distinguished guests joined Royal Liverpool Philharmonic Orchestra Chief Conductor, Vasily Petrenko (Hon DMus 2009), Michael Eakin, Chief Executive of the Royal Liverpool Philharmonic and the Department of Music recently to celebrate the opening of new facilities in the refurbished Gordon Stephenson Building.
The multimillion pound investment in music education, performance, production and management greatly enhances the Department's offer.
It includes nine practice rooms – each equipped with new Yamaha pianos; a Research Studio for advanced and experimental electronic music research and composition; as well as The Hub, a new performance and rehearsal space with high quality PA and lighting.
You can see a video of the exciting event below.
They next step in the development of music education and performance at the University was also unveiled at the event, as Head of Music Professor Catherine Tackley detailed plans for the new £22m Music Performance Space. The centre, soon to break ground on south campus, will house a 400-seat performance auditorium with space for a 70-piece orchestra as well as three lecture theatres with a capacity for more than 1,000 students, and multiple smaller seminar facilities. Students from all disciplines be able to learn, work, perform and enjoy this space, but alongside community groups and organisations, we aspire for this centre to contribute to Liverpool's vibrant cultural offering.
Professor Tackley said: "We believe that this new facility will enable still higher standards of creative work and make this accessible to the public, and also offer more students the opportunity to obtain that valuable experience which will allow them to achieve success in the ever-competitive job market."
Vasily Petrenko said of the new project: "A 400 seat auditorium as part of the investment is a great initiative. All the students and ultimately all the community will benefit from such a big interest and such a big investment into the Music department."
The University is investing £19.1m in the project, and is seeking an additional £3m to fund the development of the auditorium. Half of this has already been achieved.
If you would like to play your part and contribute, please visit: www.liverpool.ac.uk/symphony