Return to top
Course overview
The programme provides an opportunity to learn both the theoretical fundamentals of project management as well as develop the critical skills required for entry into a project management career.
Introduction
Project Management uses organisational initiative to complete a range of tasks such as the construction of new buildings, developing the next app or designing innovations in the healthcare industry. Underpinning the fundamentals of the field is the need to manage projects within constraints including time, cost, quality and scope.
The journey to becoming an effective project manager starts with the acquisition of the right tools and technologies to support decision-making and ensure timely delivery of project objectives. The MSc in Project Management has been designed to reflect on the principles and methodologies of the leading professional project management bodies. The programme is designed to facilitate the development of technical competence in areas including risk management, monitoring & control of projects, procurement as well as a core understanding of operations management, big data management and the ability to model & simulate complex problems which can plague project delivery.
The programme begins with an understanding of the terminology, core theory and tools requisite for project management activity. This is reinforced by other core modules such as uncertainty and risk (i.e. the ability to reduce/prevent problems in projects), controlling and monitoring and leadership which is a requirement for leading large/small project teams. A variety of electives are also offered including big data, logistics, operations and simulation modelling which provide an opportunity for students to focus on their areas of interest and diversify their learning, based on future career decisions.
Additionally, this programme offers other opportunities:
Equip with the appropriate knowledge and expertise those who wish to pursue qualifications in PMP, PMI (CAPM) for those with some project management experience, PFQ for those just starting out and the CQRM dependant on your project management interest.
To foster more practice as a project manager we have a suite of games available to test your PM skills: UNLOCK PM and Scope, Resources, Schedule
Networking with industry experts, through guest lectures & case challenges, provide opportunities for students to experience real-world scenarios which affect projects.
Students have a choice of either a three-month MSc project (industrial partner or research-based) or Business Simulation Analysis both with the same 60 credit value.
Accreditation
The University of Liverpool Management School is one of an elite group of institutions worldwide to hold the gold standard 'triple-crown' accreditation from AACSB, AMBA and EQUIS.
Course content
Discover what you'll learn, what you'll study, and how you'll be taught and assessed.
Studying this course part-time
International students may be able to study this course on a part-time basis but this is dependent on visa regulations. Please visit the Government website for more information about student visas.
If you're able to study part-time, you'll study the same modules as the full-time master's degree over a longer period, usually 24 months. You can make studying work for you by arranging your personal schedule around lectures and seminars which take place during the day. After you complete all the taught modules, you will complete your final dissertation or project and will celebrate your achievements at graduation the following term.
Studying part-time means you can study alongside work or any other life commitments. You will study the same modules as the full-time master's degree over a longer period, usually 24 months. You can make studying work for you by arranging your personal schedule around lectures and seminars which take place during the day. After you complete all the taught modules, you will complete your final dissertation or project and will celebrate your achievements at graduation the following term.
Semester one
The programme is delivered over 12-months and consists of five compulsory modules and three optional modules. Students are required to complete a project carried out over the summer on completion of semester two (EBUS635 or EBUS621).
Compulsory modules
PROJECT AND PORTFOLIO MANAGEMENT IN ORGANISATIONS (EBUS614)

Credits: 15 / Semester: semester 1

Project management has cemented its position as a key management paradigm, enabling organisations to efficiently achieve their goals in a constantly changing business environment complicated by risks, uncertainties and competitor pressures. The global economy implies yet another level of complexity inherent to the management of large-scale geographically distributed project teams. This module introduces cutting-edge principles and best practices of project management and discusses how they relate to the competitive product development. This module provides students with the necessary tools, techniques, and analytical skills required to strategically manage new and existing projects within the current uncertain business environment. The module seeks to provide participants with a broad understanding of the key project management elements such as: project scheduling, resource budgeting, quality assurance, and risk management / mitigation, all of which provide measurement of institutional project performance. It addresses the principal techniques used to identify, assess, measure, control and manage projects and their associated risks.
PLANNING FOR RISK, UNCERTAINTY AND COMPLEXITY (EBUS534)

Credits: 15 / Semester: semester 1

This module will enable students to understand the theories, tools and techniques associated with uncertainty and risk management. The module focuses on both qualitative/quantitative risk ensuring that students are able to both identify and analyse risk-based decisions in projects as well as develop cohesive reporting strategies for project risk mitigation. Students will also develop key skills utilising relevant risk software to support the application of theory to real world environments through simulation exercises and case studies.
Optional modules
SERVICE OPERATIONS MANAGEMENT (EBUS634)

Credits: 15 / Semester: semester 1

​Services are an increasingly visible and important facet of everyday life. The UK economy is described as a service economy, and effective service operations management is of critical importance now to public, private and third sectors alike. This module will familiarise students with the concepts, principles, practices and problems typically associated with service operations. Service operations management covers the full lifecycle of service planning, building and operation and is concerned with the continued provision of service quality in the face of changing circumstances, such that customer value expectations continue to be met. The module will focus on key service operations best-practices and provide students with an overview of prevailing theoretical debates. Contemporary research in public and third sectors will be used to provide real-world perspective on key principles.
OPERATIONS MODELLING AND SIMULATION (EBUS504)

Credits: 15 / Semester: semester 1

This module will give students an understanding of the role of modelling and simulation in the development and improvement of business processes in a commercial environment. Important elements include analytical techniques of systems, statistical aspects of modelling and system dynamics. Extensive use will be made of a variety of commercially available modelling and simulation tools such as Matlab and Witness.
STRATEGIC OPERATIONS MANAGEMENT (EBUS602)

Credits: 15 / Semester: semester 1

This module will demonstrate how operations management can influence and shape competitive strategy. Specific topics include the examination of modern business drivers and competitive performance (time compression, responsiveness, waste elimination etc.), the achievement of competitive advantage through operations management, globalisation and supply chains, agility and ECR examples and operations performance measurement. Leading-edge operational practice is analysed within each topic covered.
Big Data Management (EBUS622)

Credits: 15 / Semester: semester 1

The module aims to provide unique exposure to current business opportunities, challenges and developments associated with running or expanding digital business enterprises. It introduces students to the key aspects of big data management and examines how big data can drive decisions and actions, both operational and strategic.
Programme details and modules listed are illustrative only and subject to change.
Semester two
The programme is delivered over 12-months and consists of five compulsory modules and three optional modules. Students are required to complete a project carried out over the summer on completion of semester two (EBUS635 or EBUS621).
Compulsory modules
STRATEGIC PURCHASING MANAGEMENT (EBUS535)

Credits: 15 / Semester: semester 2

Purchasing has a critical role as a boundary-spanning function, through which it contributes to an organisation's strategic success. This module will provide students with an integrative understanding of the role and objectives of the purchasing function and its complex inter- and intra-organisational relationships that contribute to sustained commercial success and maximisation of competitive advantage. Specific topics include the critical evaluation of purchasing strategies, tools and constraints including sourcing, supplier development and supplier-client relationships. The module also explores issues relating to contracts, including tendering, bidding and order management processes, as well as the legal, commercial and socio-economic implications of purchasing strategies.
LEADING AND MANAGING PROJECT TEAMS (EBUS536)

Credits: 15 / Semester: semester 2

Delivering complex projects is typically a team effort. Leading and managing a project team can pose a formidable challenge – with a high level of personal responsibility for outcomes. This module examines strategies and approaches. What is an effective leader? How can leaders best motivate other team members and manage across cultural differences? The module also examines how to handle conflict in teams, negotiations and some of the potential pitfalls of group decision-making.
EXECUTING, CONTROLLING AND CLOSING PROJECTS (EBUS616)

Credits: 15 / Semester: semester 2

This module complements the knowledge of project management by introducing students to programme and portfolio management, as well the process and tools and techniques for putting plans into practice whilst establishing necessary monitoring and control structures to handle issues which could influence the smooth progress of a project/programme/portfolio.
Optional modules
LOGISTICS AND PHYSICAL DISTRIBUTION (EBUS609)

Credits: 15 / Semester: semester 2

This module will provide students with a thorough grounding in contemporary logistics operations and business management. Specific topics include intermodal operations, transportation selection, warehousing and distribution management, 3PLs, tendering for contracts, reverse and green logistics services, port centric maritime logistics, the concept of adding value in logistics and optimising logistics operations.
Big Data Analytics for Business (EBUS633)

Credits: 15 / Semester: semester 2

The module aims to introduce techniques for big data analytics and their applications for very large datasets in different organisations and settings. In particular, it familiarises students with existing platforms and software tools used for big data analytics and develops core skills and expertise needed by data scientists for processing and visualising big data. It also establishes the importance of big data science for business intelligence and describes major opportunities and limitations for running or expanding digital business enterprises.
ENTERPRISE SYSTEMS WITH SAP (EBUS612)

Credits: 15 / Semester: semester 2

This module will focus on introducing strategies, approaches and technologies of enterprise systems, e.g. ERP systems, and the actual ERP system implementation with use of SAP S4/HANA.

The module provides students with knowledge of enterprise system architecture and technologies in general, and roles and functions of enterprise systems and business information management for digital business and supply chain management in particular. The module will introduce the development history, functional characteristics and real cases of enterprise information systems in a digital business and supply chain environment, e.g. applications based on SAP, Oracle, etc.

The module also helps students to understand how enterprise systems and business information management functions are integrated into real-time supply chain management and business networks from the experience of SAP S4/HANA implementation. Through this learning, students will get the chance to understand how data is managed on SAP S4/HANA and understand how business process is integrated, automated and optimised on this system.
Sustainable Supply Chain Management (EBUS636)

Credits: 15 / Semester: semester 2

This module provides a critical understanding of the role of sustainability in supply chain management. The module develops a strategic perspective of supply chain management and illustrates how sustainable practices need to be imbedded within the strategic sourcing process. Using a concept known at the 'supply wheel' the module explores every aspect of strategic supply management, taking students through a logical thinking process to enable them to analyse, decide on strategic direction and understand the problems and issues around implementation.

On completion of the module, students will be equipped with a toolkit of methods to enable them to understand and evaluate the impact of sustainability issues on supply chain management across the manufacturing and service sectors.

This module is delivered in twelve three-hour lectures which are predominantly case based. The lectures will be highly interactive, students will be expected to work on case studies during the lecture and to contribute to class discussions. This will enhance their understanding of the materials and build confidence and presentation skills. In addition, there will be support from electronic materials, such as podcasts and video summaries of lectures. The module will use a core text book and supplement this material with current academic and practitioner based thinking on the various subject areas discussed.
Programme details and modules listed are illustrative only and subject to change.
Final project
The programme is delivered over 12-months and consists of five compulsory modules and three optional modules. Students are required to complete a project carried out over the summer on completion of semester two (EBUS635 or EBUS621).
Compulsory modules
MSC PROJECT (EBUS621)

Credits: 60 / Semester: summer

Comprising two elements: research methods introduces students to the principles and practices of researching and writing dissertations and results in an agreed outline plan of work for the dissertation and a completed literature review. The dissertation, itself, will be undertaken over the summer period and will involve the implementation of the research work plan and the completion of a 15,000 word dissertation.
BUSINESS SIMULATION AND ANALYSIS (EBUS635)

Credits: 60 / Semester: summer

This module will support students to develop complementary sets of skills for strategic analysis and assessment of businesses through both teamwork and individual action, conducting independent theoretical and practical research to address set questions in areas related to operations, technology, supply chain and project management within an academic framework, and for developing a strong conviction of contemporary management challenges in business networks. The module will offer students the opportunity to engage with a range of key topics and activities related to strategic thinking, business analysis, benchmarking and teamwork, where they will handle an engaging business project in a simulated environment as well as process data from real world cases. The module will provide learning of the process of analysis and assessment of businesses from both theoretical and practical aspects, and gives the student the opportunity to exercise efficient project management.
Programme details and modules listed are illustrative only and subject to change.
How you'll learn
Modules are taught using the latest active learning techniques including business simulations, real-world case studies, interactive participation software, lecture capture and flipped classroom.
The principal forms of teaching are face to face lectures and seminars, with lectures normally being supported by materials such as presentations. Seminars give the opportunity for detailed discussion of a topic under the direction of a tutor. You are normally expected to prepare work in advance for seminars and will benefit from taking part in discussions.
In addition, this course offers an enhanced programme of events and activities such as guest speakers, coding bootcamps and support for your future career.
Following semester two you will either complete a dissertation with the support of an academic supervisor, or work on a group simulation project before submitting an individual report.
Teaching time will account for an average of 10 hours per week and you should anticipate an additional 30 hours of self-directed study and group work.
How you're assessed
In semester one and two, you will take modules totalling 120 credits. The project or simulation completed during the summer period is worth 60 credits and students will be supported by their academic supervisor.
Students are required to complete 180 credits to achieve a full MSc.
Subject to meeting specific criteria outlined by the University, students will graduate with a Pass, Merit or Distinction.
Assessment tasks are varied and some may be designed specifically to meet the learning outcomes of a particular programme of study, but students can expect to be assessed via coursework, essay, group work, presentations, case studies, negotiation exercises, reports and examinations. The weighting of individual components will vary from one module to another. All assessment information is included within the module specification.
Liverpool Hallmarks
We have a distinctive approach to education, the Liverpool Curriculum Framework, which focuses on research-connected teaching, active learning, and authentic assessment to ensure our students graduate as digitally fluent and confident global citizens.
Your experience
This programme is delivered by the triple-accredited University of Liverpool Management School.
The School has a thriving international master's community with a comprehensive, interdisciplinary programme of social and extra-curricular events and dedicated careers and employability support.
Watch now
Video
MSc Project Management at the University of Liverpool Management School
Learn more about the MSc Project Management programme at the University of Liverpool Management School.
Virtual tour
Supporting your learning
From arrival to alumni, we're with you all the way:
What students say...
The programme has provided me with a unique opportunity to learn both the theoretical and practical aspects of project management.
Chat with our students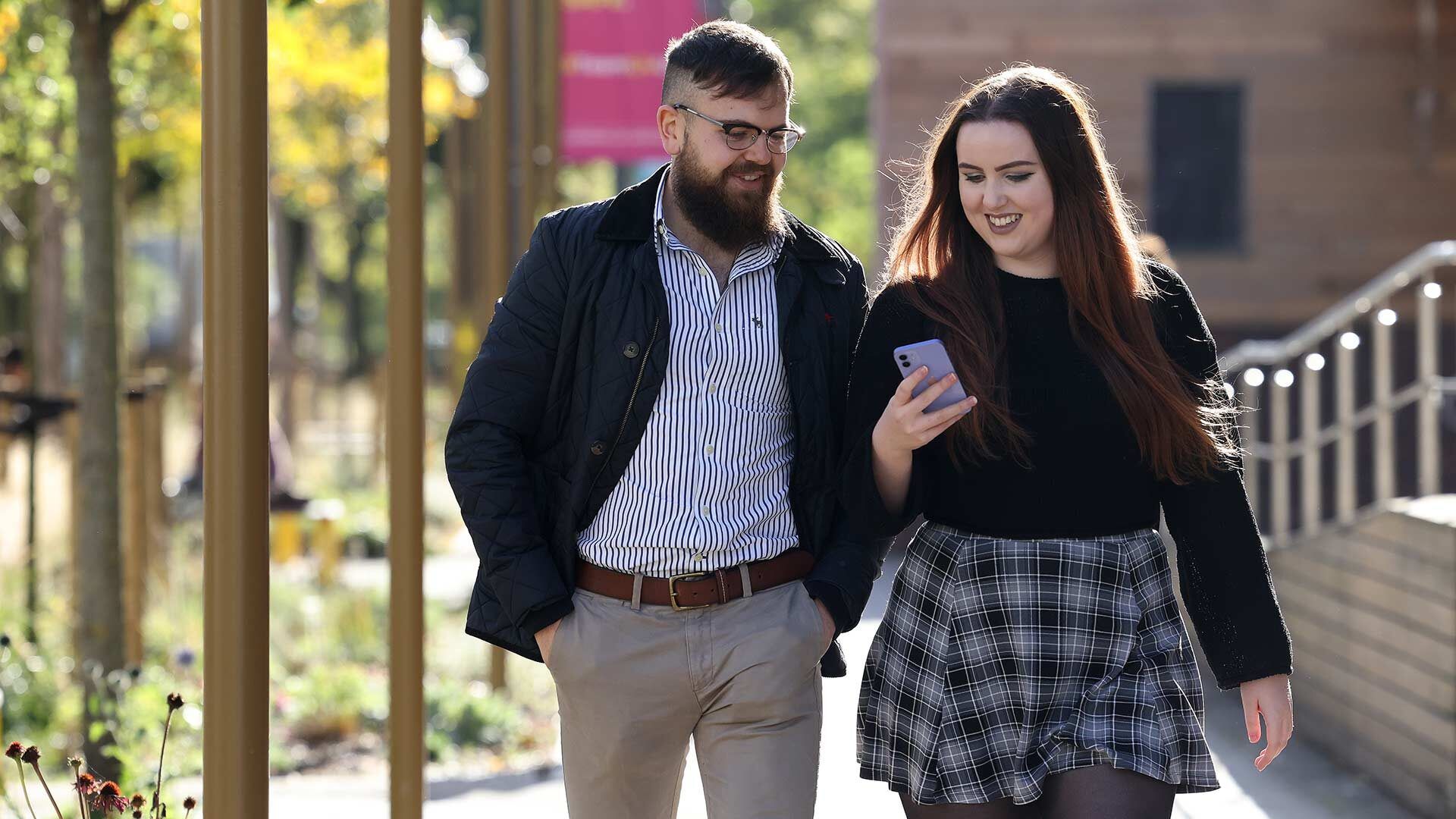 Chat with our students
Want to find out more about student life?
Chat with our student ambassadors and ask any questions you have.
Careers and employability
Opportunities are provided for students of the programme to analyse and examine the most up-to-date, cross-sectoral developments in project management practice. It is expected that programme graduates will be equipped with the knowledge and skills to reach senior managerial positions and become successful project managers of the future.
Your future
You will have access to a specialist, in-house postgraduate careers team and have access to one-to-one careers guidance, workshops, seminars, and employability initiatives.
Graduates from our Project Management MSc course have secured jobs with companies such as:
ExxonMobil
Grayce
IBM
BAE Systems
China National Machinery Industry Corporation
BP plc
Amazon
In roles such as:
Head of Client and Legal Project Management
Operations Management Advisor/Trainee
Technical Engineer
Project Manager
Head of the Office of Digital Government Bodies
Senior Production Manager
Risk and Compliance Specialist.
Fees and funding
Your tuition fees, funding your studies, and other costs to consider.
Tuition fees
UK fees

(applies to Channel Islands, Isle of Man and Republic of Ireland)

Full-time place, per year
£14,500
Part-time place, per year
£7,250
International fees
Full-time place, per year
£29,000
Part-time place, per year
£14,500
Fees stated are for the 2024-25 academic year.
Tuition fees cover the cost of your teaching and assessment, operating facilities such as libraries, IT equipment, and access to academic and personal support.
If you're a UK national, or have settled status in the UK, you may be eligible to apply for a Postgraduate Loan worth up to £12,167 to help with course fees and living costs. Learn more about paying for your studies..
Additional costs
We understand that budgeting for your time at university is important, and we want to make sure you understand any course-related costs that are not covered by your tuition fee. This could include buying a laptop, books, or stationery.
Find out more about the additional study costs that may apply to this course.
Scholarships and bursaries
We offer a range of scholarships and bursaries to provide tuition fee discounts and help with living expenses while at university.
Entry requirements
The qualifications and exam results you'll need to apply for this course.
Your qualification
Requirements
Postgraduate entry requirements

Students will normally be expected to hold a university degree in Management, Architecture, Mathematics, Business, Engineering, Science or related disciplines at 2:1 standard from a UK university, or an equivalent academic qualification from a similar international institution.

Non-graduates with very extensive professional experience and/or other prior qualifications may also be considered.

International qualifications

If you hold a bachelor's degree or equivalent, but don't meet our entry requirements, you could be eligible for a Pre-Master's course. This is offered on campus at the University of Liverpool International College, in partnership with Kaplan International Pathways. It's a specialist preparation course for postgraduate study, and when you pass the Pre-Master's at the required level with good attendance, you're guaranteed entry to a University of Liverpool master's degree.
English language requirements
You'll need to demonstrate competence in the use of English language. International applicants who do not meet the minimum required standard of English language can complete one of our Pre-Sessional English courses to achieve the required level.
English language qualification
Requirements
GCSE
Grade C
IELTS
C
View our IELTS academic requirements key.
International Baccalaureate

Standard Level (Grade 5)

INDIA Standard XII
National Curriculum (CBSE/ISC) - 75% and above in English. Accepted State Boards - 80% and above in English.
WAEC
C6
Hong Kong use of English AS level
C
Cambridge Proficiency
C
More about life in Liverpool
Discover more about the city and University.
Why study at Liverpool?
Liverpool bursts with diversity and creativity which makes it ideal for you to undertake your postgraduate studies and access various opportunities for you and your family.
Accommodation
To fully immerse yourself in the university experience living in halls will keep you close to campus where you can always meet new people. Find your home away from home.
Fees and Finance
Discover what expenses are covered by the cost of your tuition fees and other finance-related information you may need regarding your studies at Liverpool.
Contact us
Have a question about this course or studying with us? Our dedicated enquiries team can help.