Research Review Meeting Liverpool
University of Liverpool 24th and 25th February 2014
The University of Liverpool welcomed representatives from all SIRBATT partners to their first six-monthly, face-to-face, research review meeting.

Arrival was Sunday 23rd February with a full day meeting at the Hope Street Hotel, Liverpool on Monday 24th. The meeting covered all aspects of our research with each Work Package Leader presenting the progress within their group followed by an opportunity for questions and discussion. In addition there were be number of selected guest speakers who will talked on specialist topics within our area of research:
'AC-impedance study of interfacial kinetics in metal/graphite composite anodes for Li-ion batteries'

Francesco Nobili
University of Camerino

'Initial SERS and SHINERS studies on Lithium-Ion Battery Electrolyte'

Laura Cabo-Fernandez
University of Liverpool

'First-principles study of Li4Ti5O12(111), Li7Ti5O12(111), and a-Li2TiO3(111) and (100) surfaces for Li-ion battery'

Javier Carrasco
CIC energiGUNE

'Subspace corrected functionals for battery electrode interfaces'

Gilberto Teobaldi
University of Liverpool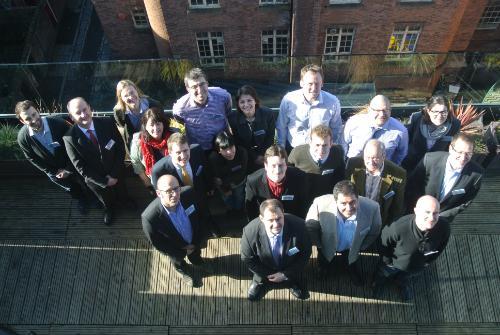 Day two included a tour of the Stephenson Institute for Renewable Energy (SIRE), where the SIRBATT Project is based. SIRE is a recently-founded interdisciplinary research institution within the University of Liverpool's School of Physical Sciences. It brings together energy-related research activities from across the University to focus on developing clean and sustainable energy technologies.
There was an optional excursion of a 'Shiverpool' ghost tour walk of the local area followed by dinner at the Alma de Cuba Restaurant for those arriving in time on Sunday evening.