Liverpool kicks off STFC Centre for Doctoral Training in Data Intensive Science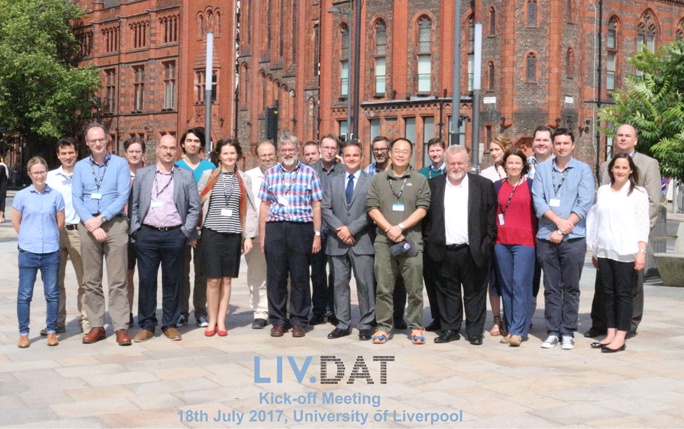 The Science and Technology Facilities Council (STFC) has announced its support for a new Centre for Doctoral Training (CDT) in data intensive science (LIVDAT) which will be hosted by the University of Liverpool and Liverpool John Moores University and has received more than 1 Million pounds of funding.
LIVDAT will provide training in Big Data science to a cohort of almost 20 PhD students helping students apply these skills to data from astrophysics, accelerator science, nuclear and particle physics research, as well as to problems posed by industry and other organisations.
More than 20 experts gathered in the Oliver Lodge Building on Tuesday, 18 July 2017 to formally kick off this new initiative. In an all-day meeting all research projects, as well as the comprehensive training programme that will be offered to all students were discussed in detail. By joining researchers with a background in physics, mathematics, computer sciences, EEE, and life sciences, LIVDAT will provide a unique interdisciplinary training that has not been offered anywhere else.
Managing, analysing and interpreting large, complex datasets and high rates of data flow is a growing challenge for many areas of science and industry. Recent years have witnessed a dramatic increase of data in many fields of science and engineering, due to the advancement of sensors, mobile devices, biotechnology, digital communication, and internet applications. Very little targeted training is provided to address a growing skills gap in this area.
Professor Carsten P Welsch, Head of the University of Liverpool's Physics Department and Director of the CDT, said: "Both the University of Liverpool and Liverpool John Moores University have a long-standing track record in the design and construction of advanced scientific instruments. Both have also developed strong links to many international research laboratories. The PhD students in this new centre will now benefit from this unique expertise and get trained in an area of research that is highly important for both, fundamental science and industry applications."
Professor Chris Collins, Head of the Astrophysics Research Institute at Liverpool John Moores University, added: "Establishing this doctoral training centre with our University of Liverpool colleagues and local industry is a fantastic opportunity to develop new techniques and algorithms to meet the challenge of large and complex datasets in the 21st century. The astrophysics research at LJMU perfectly complements the research activities of our colleagues at UoL and we are confident that this new training initiative will seed closer collaborations in the future in new areas such as the search for dark matter and understanding dark energy."
The CDT will offer a comprehensive training in data intensive science through cutting edge research projects and a targeted academic training programme, complemented by secondments to national and international partners. You can find out more about the research and training programme at http://www.livdat.org.
LIVDAT will also capitalise on the Liverpool Big Data Network (LBDN), an initiative set up in 2013 in response to Big Data being one of the 'Eight Great technologies'. As well as providing a focus for relevant existing MSc provision, LBDN now comprises some 100 academics drawn from many different academic disciplines and united by a common interest in developing and applying Big Data.