Big Bangs and intergalactic festivals – why we like outreach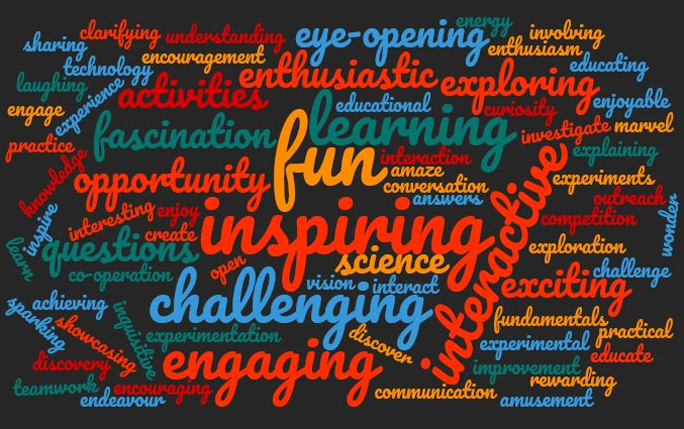 July has been another great month for public engagement within the Quasar group. Members have enthralled school children at the Big Bang science fair, educated festival-goers at bluedot and there have been some fantastic video entries to the Cockcroft 120 Challenge (more on this soon!). Working alongside colleagues from STFC and the Cockcroft Institute, QUASARs have helped to spread the excitement of accelerator physics to over 5000 budding scientists this July.
As we look towards the summer holiday season, it seems like the perfect time to tell you about our recent outreach work. We will also be getting up close and personal with individual members of the group as we launch our new series of articles, Why I Outreach.
The first July event was the Big Bang North West Fair, which was held in Liverpool. The Big Bang is a day of fun-filled theatre shows, hands-on exhibits, interactive workshops and careers information, all designed to excite students (and some adults – ourselves included).
We put accelerator physics into a new dimension, using virtual and augmented reality to let the students discover the world of accelerators. The STFC & Cockcroft team included Quasars Chris Edmonds, Lina Hoummi and Roland Schnuerer, who met 2500 students in just 5 hours, and explained the physics of particle accelerators using the acceleratAR app, the augmented reality particle accelerator (www.acceleratar.uk), and the VELA accelerator VR model.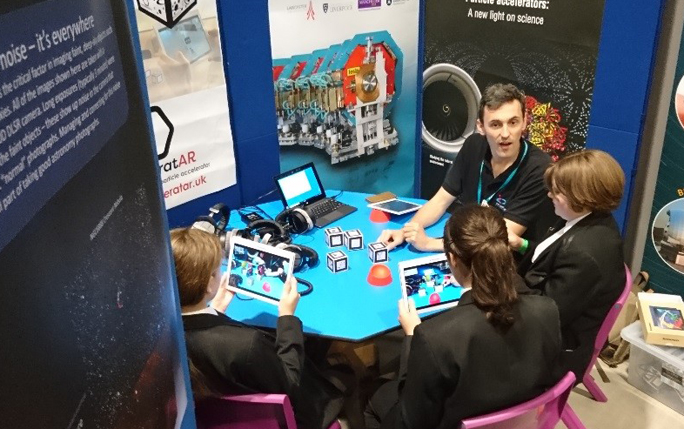 Chris Edmonds demonstrating the acceleratAR app at the Big Bang Fair.
Just a few days later, we attended one of the world's largest music and science festivals. The bluedot Festival at Jodrell bank: an intergalactic festival of music, science, arts, culture and the exploration of space, all with the incredible Lovell telescope to set the scene. QUASAR group members Maxine Sharples, Bianca Veglia, Chris Edmonds and Alex Alexandrova enjoyed entertaining people of all ages with a multitude of science experiments, including solar scopes, 4.5 million year old meteorites and a salad bowl accelerator.
But, why do we give so much of our time to events like the Big Bang and bluedot? Of course, we are responsible for telling the public about our work, and we do need to inspire the next generation of physicists. On a more personal level, outreach work means something different to each of the members of the group – to gain the smallest insight into what motivates us, we asked each QUASAR to offer some words that they associate with outreach. The results are shown in the word cloud above. To delve a little deeper, we will begin a short series that gives our personal experiences of performing outreach.
Watch this space!