Dr. Fanouria Antoniou - Welcome to the QUASAR Group!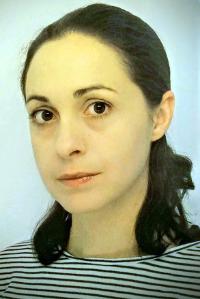 Amongst all of the new students arriving last month, the Quasar group also welcomes a new Research Fellow, Dr. Fanouria Antoniou. Dr. Antoniou studied Applied Physics in the National Technical University of Athens, where she graduated from in 2005. She then obtained her master's degree in Physics and Technological Applications in 2007. For her master's thesis she worked on the Feasibility of measurement of the χb0 meson through its decay χb0 → 2J/ψ → 4μ at the ATLAS detector located at the LHC, CERN.
In 2008 she was awarded with a doctoral fellowship at CERN. Her PhD thesis was dedicated to the optics design of intra-beam scattering dominated damping rings. More specifically, she designed the optics of the CLIC pre-Damping Rings and optimised the optics design of the CLIC main Damping Rings, focusing on the intra-beam scattering effect. From 2012 until 2015 she worked as a CERN fellow, participating on the optics design of a High Power Proton Synchrotron (HPPS) for the LAGUNA project and on the development of a Luminosity model for the LHC. The model is now being used to perform bunch-by-bunch data analysis for the LHC.
In September 2016 she joined the University of Liverpool and the QUASAR group. Based at CERN, she will focus her research on beam dynamics aspects of crab cavities for the HL-LHC project. The HL-LHC project is an upgrade of the LHC at CERN. It aims an increase of the luminosity by a factor of 10 with respect to the LHC's design value. One of the technological challenges of the project is the use of crab cavities. These will be used to tilt the particle bunches before collision, by giving them transverse momentum, in order to enlarge the area where they meet and thus maximize the luminosity (rate of collisions). The first proof of principle system will be tested in the CERN SPS. The University of Liverpool and Dr. Antoniou will be involved in the beam dynamics studies related to this test.