Quasar innovation at Physics Innovate
Physics Innovate returns this year in participation with the International Festival for Business 2016 at the Exhibition Centre Liverpool. With over 30,000 delegates from over 100 countries, IFB 2016 is a global marketplace for the latest in technology and innovation. The Department of Physics at the University of Liverpool is highly respected worldwide and has a long history with large international collaborations and the university strives to keep this tradition alive with Physics Innovate 2016, which brought together speakers from CERN, the MET police, Canberra Industries, Proton Partners International, Innovate UK and, of course, the University of Liverpool. The purpose of the event was to create new business connections as well as bringing together the institutions we currently work with to discuss our collaborative projects.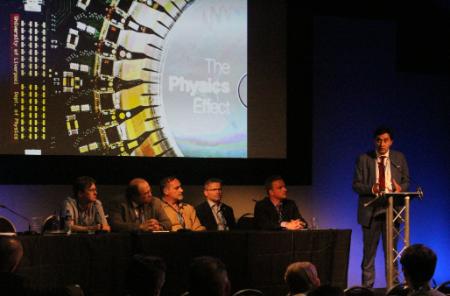 Prof. Carsten Welsch gave a talk on "accelerating innovation". The QUASAR Group leader presented the major technological challenges involved in the area of particle accelerators, which large international collaborations like EuPRAXIA, EuroCirCol and OMA are currently working to address.‌
The QUASAR group also presented a dedicated stand which contained a catalogue of leaflets, brochures and booklets which displayed and highlighted the QUASAR groups' numerous and expansive research projects and networks. The stand was manned by researcher and CEO of D-Beam Ltd, Alexandra Alexandrova and Mr. Alex Mason who is carrying out an internship at the institute. As a company D-Beam provides reliable and cost effective optical diagnostics for use at clinical and accelerator facilities. With a goal to create and maintain strong relationships with their customers, D-beam manufactures high performance products such as: Light Transport Systems, Custom-designed Radiators, Self Mixing laser diode sensors and Beam Loss Monitors based on Fibers.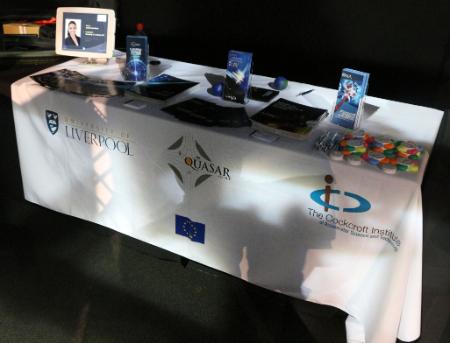 The Physics Innovate tent housed several stands and projects including: the Liverpool Reactor Monitoring Group presenting their VIDARR antineutrino detector, Hamamatsu promoting their photodetector and other products based on semiconductors, SIRE (Stephenson Institute of Renewable Energy), led by Prof. Ken Durose, displaying their breakthrough work on solar cell processing. Also shown was, the work of the Dr. Laura Harkness-Brennan group and their development of a gamma-ray imaging system for delivering dosimeter during molecular radiotherapy and finally, STFC had their stand supporting the process of commercialising scientific research.