Dr David Newton (†2015)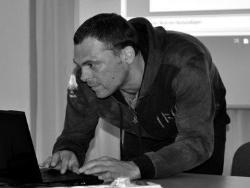 Suddenly and unexpectedly Dr David Newton passed away last week-end. He has been a member of the Liverpool Accelerator Physics Group since 2008 and was specialized in charged particle beam dynamics, accelerator optimization and radiation sources.
Dave was one of my first contacts when I started in the UK in 2008. He helped me settle into a new environment, immediately made me feel welcome, and was always available for questions. Throughout the years he was an excellent collaboration partner, a very good scientist, a friend and advisor. We have held international workshops and schools together, helped each other in our lectures, turned a Marie Curie network into a European "success story", and have shared our passion for particle accelerators with several generations of students at the Cockcroft Institute.
I was delighted when he joined the QUASAR Group as a Postdoc working on the description of beam transport in electrostatic beam lines and low energy storage rings back in 2011. I was even more delighted when he became a lecturer in Liverpool's physics department already in the following year. He quickly broadened his activities and soon also covered the design of next-generation light sources, R&D into our on-campus accelerators, and we had already started to collaborate on future Large Hadron Collider upgrade scenarios. We had big plans and high ambitions for the future.
Dave combined all the skills that are essential for a successful academic career: He was an excellent scientist, a passionate lecturer, and an outstanding mentor. He was also a wonderful friend.
Words cannot describe the void that he is leaving. My thoughts are with his partner Jo and his family in these difficult times.
Prof. Carsten P. Welsch, QUASAR Group leader