QUASAR Awarded at CI PGR Conference
The Cockcroft Institute held its first Postgraduate Conference on the 5th October. Several presentations were given by PhD students from each of the universities on a wide range of topics from advanced electromagnetic theory, simulations of the LHC and other accelerators, and designs of novel types of beam diagnostics. This gave the students the chance to find out about each others work and to present their own work to their peers.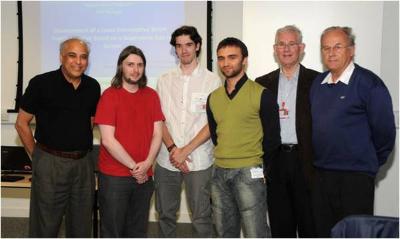 QUASARs Janusz and Massimiliano contributed to this event. A panel made up of three academic staff from the Cockcroft had the difficult task of trying to judge these presentations. The judges were really amazed by the quality of the talks over such a wide range of topics from students. "The students really did an excellent job and I would be proud to have any of these students representing the Cockcroft internationally with presentations of this quality" remarked Graeme Burt, one of the judges. Two prizes were awarded to the best presentations,
1st prize went to Massimiliano for his talk "Development of a Beam Profile Monitor Based on a Supersonic Gas-Jet Curtain" who wins a £100 book token.
2nd prize went to Stephen Flood from Lancaster University for his talk "Nonlinear Electrodynamics" who wins a £50 book token. His supervisor is David Burton.
The feedback from the event has been very positive, and it is likely that this will be an annual event for the Cockcroft
CONGRATULATIONS !!
Further information: