LIV.INNO School boosts students' career skills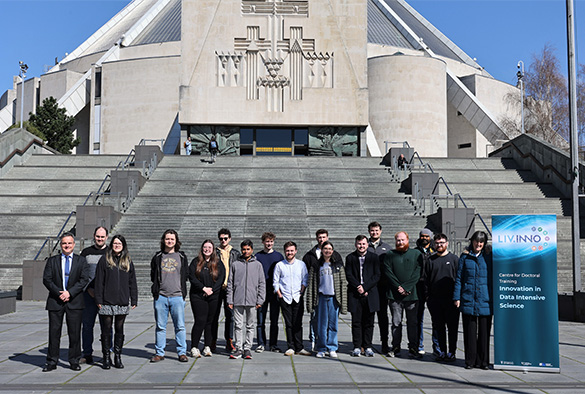 In addition to the cutting-edge research realized in our Centre for Doctoral Training, the LIV.INNO training programme is designed to address a wide range of important skills, including project management, networking, communication and presentation skills, with the aim to provide all students with the skills set required for a future career in either academia or industry. To this end, an introductory skills school for the current first year LIV.INNO students as well as for the other first year PhD students in the Department of Physics was run from 3-6 April in Liverpool. The school was based on successful training developed over the past decade for pan-European training programs that have demonstrated that they boosted the skills of course participants.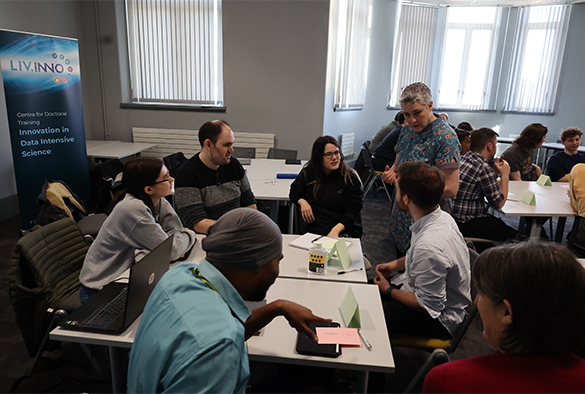 Rachel Mason from Science Made Simple with participants during the presentation skills session.
After an introduction by LIV.INNO Director, Prof Carsten P Welsch, the students spent most of the first day honing their presentation skills with Rachel Mason from Science Made Simple and then being introduced to an outreach activity where they would be able to put their skills to use by LIV.INNO centre manager Naomi Smith. At the end of the first day an introductory session on Intellectual Property rights was delivered by Howard Read and Andrew Johnston from Appleyard Lees.
The second day of training was devoted to project management training delivered by Dr Fraser Robertson from Fistral. Dr Robertson gave a very entertaining guide to all the different aspects of project management and there were plenty of practical exercises for the students to apply what they learned to their own PhD projects.
The third day started with a session on Peer Review given by Dr Eva Vilella from the University of Liverpool. The process of peer review was new to many of the students so this session was very useful to them. The students then continued to work on their outreach ideas which they had first discussed on the first day before having a session on Science Writing given by Andrew Glester of the Science Communication Unit at the University of the West of England.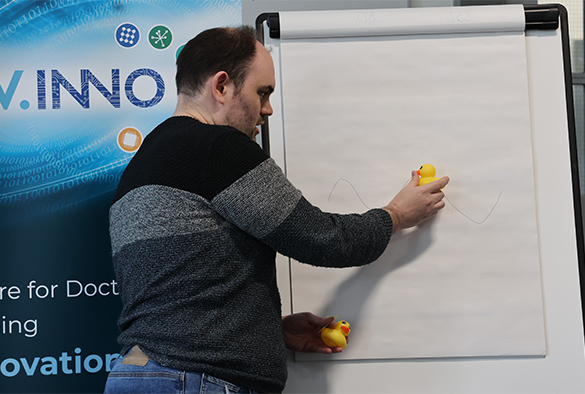 A LIV.INNO student during one of the presentation skills activities.
The final day was devoted to the outreach projects which the students were creating. In groups, the students all gave presentations about their outreach idea, including details of how the group would project manage the idea and how they would promote the idea online. After all groups had given their presentation, each group gave feedback to all of the other groups saying what they liked about their idea and suggesting improvements. The ideas will all be used during Daresbury Open Week which is a large-scale public engagement event that will run from 10th -15th July 2023.
Professor Welsch said: "The week focused on those core skills that PhD students need – not "only" for their current PhD project, but throughout their future careers. We included skills that they can apply immediately to their work, such as project management, as well as more generic skills such as team-working, working under time pressure and presentation skills that will likely impact on every aspect of their work in the future."
The training event was considered very useful by participants and will next be offered again in November this year to the next cohort of LIV.INNO students, year 1 PhD students in the Department of Physics, as well as to the Fellows within the EuPRAXIA Doctoral Network.