Carsten Welsch awarded Certificate of Recognition for economic impact to Liverpool city region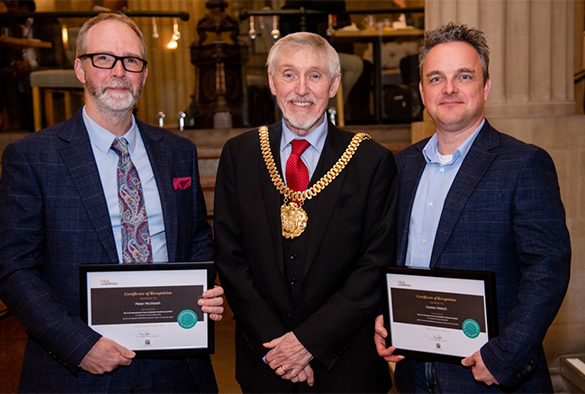 Congratulations to Club Liverpool Ambassadors Carsten P Welsch, Head of the QUASAR Group, together with Peter McIntosh (STFC Daresbury Laboratory) for receiving a Certificate of Recognition for bringing the 31st International Linear Accelerator Conference (LINAC) to Liverpool, which ran from 28 August to 2 September 2022, and contributed £990,000 to the Liverpool City Region economy.
LINAC2022 was hosted by the Science and Technology Facilities Council, the Cockcroft Institute and the John Adams Institute at the Arena and Convention Centre in Liverpool. The event welcomed almost 350 accelerator specialist delegates from all over the world. Experts from the Cockcroft Institute were the driving force behind this major event, with Peter McIntosh as Conference Chair and Carsten P Welsch as the Local Organising Committee Chair.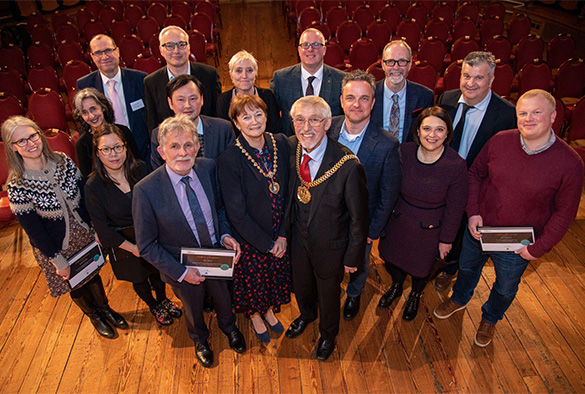 The Recognition event was held to celebrate and recognise those who brought important events to Liverpool last year. (Credit: Club Liverpool)
In 2022, 15 ambassador led events took place with a combined economic impact of £7.5m on the city region. The Annual Recognition event was organised by Club Liverpool and held at Liverpool's landmark venue St Georges Hall, to celebrate and recognise those who brought these important events to Liverpool last year.
The Club Liverpool Ambassador Programme is a network of Liverpool academics and professionals who volunteer their time to help bid for conferences to bring economic growth and value to Liverpool City Region. They offer free advice and support to bid for and host events in the city, as well as providing the opportunity to network with other influential people in the same position.
The event gave the ambassadors in attendance the opportunity to strengthen their relationships and expand their network.