Breaking barriers: Northern universities collaborate to inspire the next generation of female scientists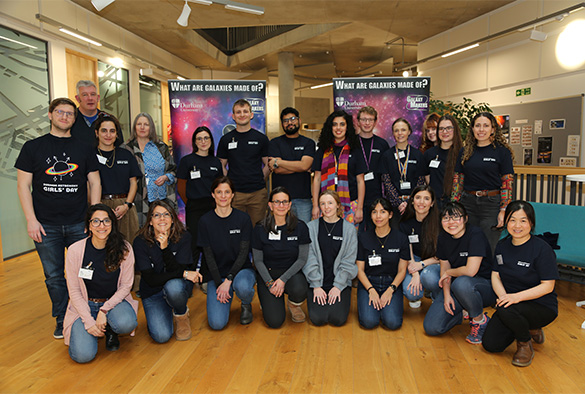 Dr Alex Hill, QUASAR member and Liverpool Data Science Fellow, travelled north this month to take part in a large outreach event hosted by Durham University.
Titled 'Durham Astronomy Girls Day', the event celebrated the International Day of Women and Girls in Science. Students from underprivileged schools across County Durham were invited to the University to participate in a day packed with interactive exhibits, panels with current PhD students and staff, and talks delivered by the faculty.
Lead organiser Dr Anna McLeod said, "Physics suffers from a historic underrepresentation from groups such as women and people from a low-income background, but this no longer has to be the case".
By introducing young people to real researchers and the places they do their amazing work, it's hoped that more girls will decide to pursue a career in Physics, and STEM more broadly.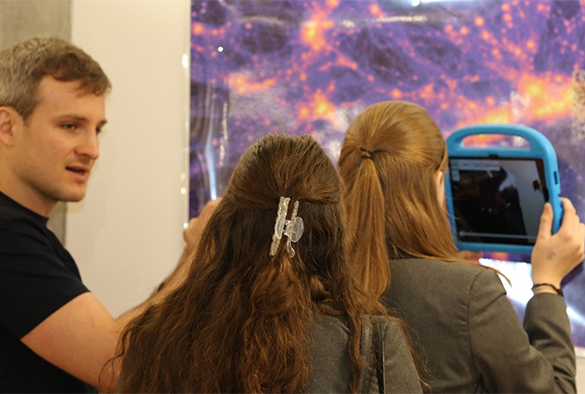 Dr Alex Hill explaining the Galaxy Hunter App to participants of the event. (Image credit: Durham University)
"Young people need to be aware of the possible scholarships and other funding mechanisms that they have direct access to, which can help them go to university and follow their dreams", Dr McLeod added.
Dr Hill's collaboration with Durham University goes back to 2021, and the Royal Society's Summer Science Exhibition.
"As my PhD was part of the LIV.DAT programme, I undertook a short placement at a company that developed augmented reality apps for scientific outreach and education", he said.
"During the pandemic, Durham University approached me to create an exhibition that people could use at home. Fellow LJMU alumnus Mitchell Fielder and I developed the Galaxy Hunters app, which enabled people to explore simulated universe and learn about the galaxies hidden within".
This most recent outreach event allowed Dr Hill to work with his app in the field for the first time. "I had a great time discussing science with the attendees and using the Galaxy Hunters app as a teaching tool", he said. "When I last used it during the Royal Society Exhibition, I fielded questions from big names in the scientific establishment and media such as Professor Jim Al-Khalili, but I think the girls of County Durham gave me a harder time!".
Building on the success of this inaugural event, Dr McLeod aims to make the Girls' Day a yearly occurrence. Dr Hill said, "I was very impressed at the thoughtfulness and organisation that went into this event. I learned a lot from Anna and her colleagues in Durham, and I hope to apply some of what I've learned to outreach activities in Liverpool and the North West".
For all queries please contact Dr Hill at a.d.hill@liverpool.ac.uk.