New data science CDT officially launched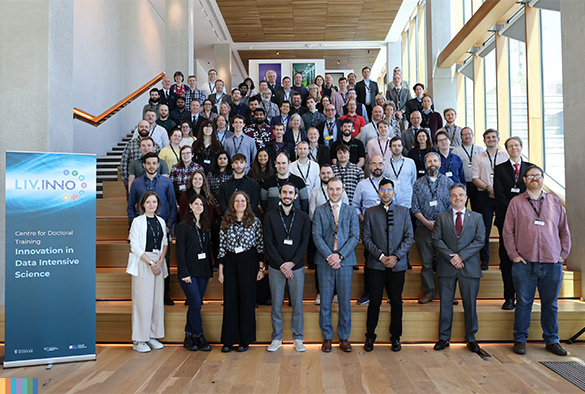 More than 100 experts joined the kick-off meeting for our new STFC Centre for Doctoral Training for Innovation in Data Intensive Science (LIV.INNO) on Tuesday, 24 May 2022. The meeting was held at the Spine, a stunning new building overlooking Liverpool city in the heart of the Knowledge Quarter. The event included presentations on all aspects of the centre, talks by industry and research partners, and a poster session showcasing research outcomes from our previous centre, LIV.DAT.
LIV.INNO will be an inclusive hub for training diverse cohorts of excellent students in data intensive science. The centre will be jointly hosted by the University of Liverpool and LJMU, and bring together experts from the departments of physics, maths and computer science, as well as the astrophysics research institute.
LIV.INNO will provide targeted training to meet a growing skills gap in the area of data science which has seen a dramatic increase in many fields of science and engineering, due to the advancement of sensors, mobile devices, biotechnology, digital communication, and internet applications. It will also offer schools, international workshops and conferences for the wider scientific community.
The kick-off meeting discussed the aims of the centre and its ambitious R&D plans in detail. It also gave existing and prospective partners a platform to present their data science capabilities and research interests. The event was an ideal opportunity to discuss collaboration and future joint projects. A special treat for all participants was the premiere of the brand-new film "LIV.INNO - driving innovation through data science", now available on YouTube.
All presentations are available on the event website. Anyone interested in finding out more about the centre and ways to get involved should contact the CDT Director Professor Carsten P Welsch or the LIV.INNO Manager, Naomi Smith.