Challenges in experiment-machine interfacing takes AVA Fellows to Slovenia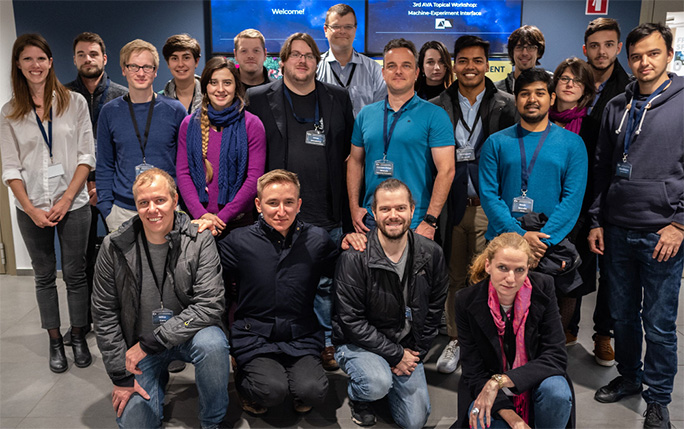 Antimatter experiments address some of the most fundamental questions in science by studying the building bricks of nature. Measurements are currently carried out at CERN in Geneva, Switzerland and include laser spectroscopy on antihydrogen as well as gravity measurements. These aim at finding differences in the fundamental properties of an antimatter particle and its matter counterpart. Any differences found would help understand the matter-antimatter asymmetry observed in the universe.
These challenging experiments are usually developed by international collaborations as stand-alone setups that take the antimatter particles from a much larger accelerator facility. This brings up many challenges in terms of efficiently interfacing the experiment with the wider accelerator control and data acquisition system.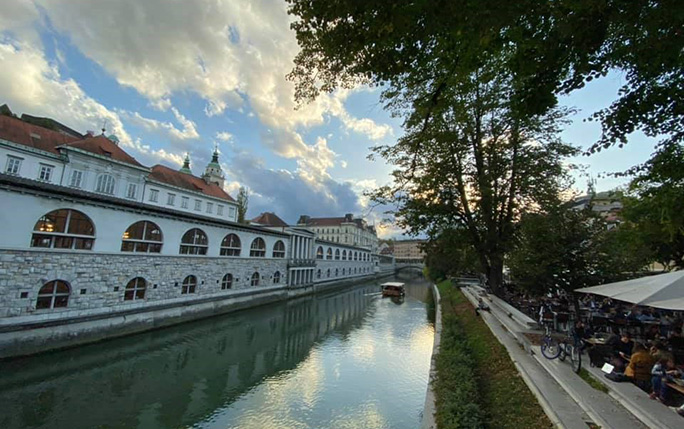 Ljubljana's beautiful historic town centre.
The Marie Curie Innovative Training Network AVA (Accelerators Validating Antimatter Physics), coordinated by CI/University of Liverpool, has held its 3rd AVA Topical Workshop. Several members of the QUASAR Group, together with antimatter experts, research Fellows and PhD students took part in this event.
COSYLAB, based in Ljubljana, Slovenia, is considered a world-leader in large research facilities control systems and hosted this workshop. The 2-day event took place on 10-11 October 2019 and included invited talks about past and current challenges in two of the world's premier research facilities: CERN in Switzerland and GSI/FAIR in Germany.
Professor Carsten Welsch, AVA Coordinator and Head of the QUASAR Group, started the workshop and said after having given a brief introduction of the AVA network: "In this workshop, we would like to identify and share best practice amongst experimental groups that carry out measurements at the cutting edge of science and the machine designers and operators that provide the beam for the experiments. We would also like to clearly identify challenges in data exchange and analysis and try to find ways of how to overcome them."
Dr Lajos Bojtar of CERN's Antiproton Decelerator (AD) control team then gave an invited talk on the first day about Challenges in AD/ELENA operation where he stressed to complexity of bring a high quality beam to the different antimatter experiments. He also gave examples of good practice in linking signals between an experiment and the machine control system.
His talk was followed by a presentation given by AVA Fellows Adélaïde Grimaud, Markus Wiesinger and Amit Nanda. All three had worked together already the entire week as part of a secondment on the specific challenges and opportunities in their experiments. They summarized their findings and this provided an excellent basis for the discussions on day 2.
In the afternoon, COSYLAB led a hands-on LabView workshop. This was an expressed wish of the AVA Fellows and all participants benefited from the expert knowledge and perfect infrastructure at COSYLAB. They learned a lot about the challenges in efficient system integration and troubleshooting as they completed a range of exercise.
The second day was started by Dr Ralph Steinhagen of GSI/FAIR who talked about Sustainable Accelerator System Integration and Control Room Operation. Dr Steinhagen presented numerous examples from successful experiment integration and how data exchange between experimental groups and the machine control team have allowed to improve both, experimental outputs and beam quality.
All participants then gave brief presentations about the specific tools and techniques they are using in their studies, as well as a summary of the challenges that they have been facing. They also made recommendations about future changes to current practice to improve beam control, data acquisition and analysis. Lively discussions throughout the day showed that there was a strong need for an informed roadmap describing best practice in these areas.
The workshop participants decided to now work on developing their findings into a joint article describing current practice and recommendations for future studies. This paper will be made available via the project and event pages once available.
All talks and further information can be found on the event website: https://indico.cern.ch/event/835785
Special thanks go to Adi, Andreja and Ivana, as well as all of COSYLAB's fantastic team for their support and help in organizing this event.
This project has received funding from the European Union's Horizon 2020 research and innovation programme under the Marie Skłodowska-Curie grant agreement No 721559.