QUASARs at PTCOG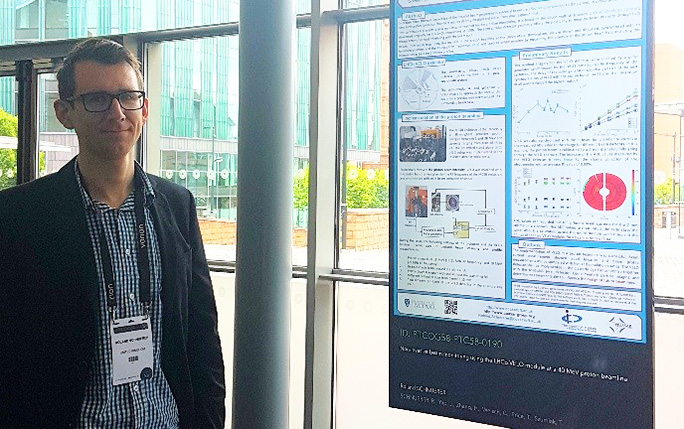 The Particle Therapy Co-Operative Group PTCOG conference took place in Manchester, UK between 10-15th June 2019. PTCOG brought together leading clinicians, physicists and other practitioners in particle therapy to share the latest clinical, scientific and industrial developments and to showcase the latest technology which can help patients. The North West of England's heritage as a pioneering region in cancer research and treatment for more than 100 years played a key part in bringing this important conference to the UK. This year also marks the 100th anniversary of Rutherford's 1919 breakthrough in understanding the structure of the atom and discovery of the proton. Manchester was the perfect place to celebrate this anniversary and as held at Manchester central, the conference coincided with the opening of the first NHS high energy proton beam therapy centre at The Christie in December 2018.
QUASARs Jacinta Yap, Selina Dhinsey and Roland Schnuerer presented their work on the end-to-end simulations of the Clatterbridge eye proton therapy beam and first results of the measurements done with the VELO detector at the MC40 cyclotron at the University of Birmingham through poster contributions.
They discussed their project with international experts and established a new link with researchers from the University of Liverpool to strengthen their work with Andrzej Kacperek of the Clatterbridge Cancer Centre with new experimental ideas.
Moreover, Jason Parsons, Senior Lecturer and Research Group Leader in Molecular and Clinical Cancer Medicine at the North West Cancer Centre and co-supervisor of Jacinta, Selina and Roland, won the Michael Goitein Best Abstract Award for Radiobiology on his work 'Novel insights into the cellular response to complex DNA damage induced by high-LET protons'.
Congratulations!