QUASAR at RISE Professional Meeting in Heidelberg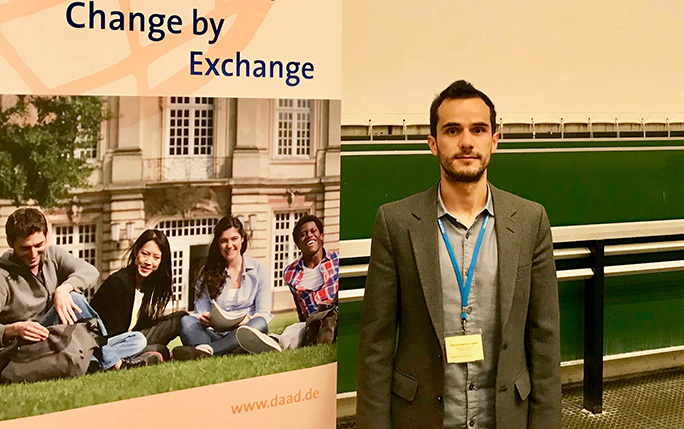 On 4-6 of July, QUASAR Pavel Juárez López attended the 2019 RISE Professional Meeting in Heidelberg, Germany. RISE (Research Internships in Science and Engineering) Professional is funded by the German Federal Foreign Office and offers summer research internships in Germany to Master's and Ph.D. students from USA, Canada, Great Britain or Ireland at companies and non-university research institutions with strong relations to industry. Earlier this year, Pavel was selected for a 3-month summer intern position at the HZB facility in Berlin, joining their photocathode team to work on the production and characterisation of multi-alkali metal CsKSb (caesium potassium antimonide) thin film photocathodes.
The event combined social and academic activities to give RISE Professional and RISE Germany scholars the chance to network, exchange experiences and present their work.
On Friday morning, the students visited BASF, the largest chemical producer in the world. The informative and interactive tour of the laboratory included small experiments to showcase research applied to products developed by BASF in partnership with different companies and gave the opportunity to ask informal questions to researchers and staff at the facility.
The tour was followed by a 'Welcome Meeting and Introduction' for RISE scholarship holders, at the Neue Aula at Heidelberg University. The meeting was coordinated, hosted by the RISE programme and included speakers from all across Germany, and abroad. Academics from German institutions and RISE alumni gave an insight about opportunities for studying and working in Germany and diplomatic staff from several embassies of countries participating in the RISE program, delivered talks about the numerous benefits of international exchange programmes.
The evening concluded with a BBQ dinner, where the students had the chance to meet other RISE interns in a social environment.
On Saturday, RISE scholars presented their research projects divided into topics: Biology, Chemistry, Computer Science, Earth Science and Engineering, Engineering and Physics. Pavel gave a talk about "Photocathode preparation commissioning for Berlin Energy Recovery Linac Prototype (bERLinPro)" summarizing bERLinPro in terms of the photocathode that the Energy Recovery Linac will need. He also presented results from the commissioning of the new manipulator after temperature calibration.
A guided city tour of Heidelberg concluded the event.
Pavel said: "The RISE Professional Meeting was a great opportunity to meet and build a network between RISE interns. It was amazing to meet young scientists and engineers from all over the world and I was impressed by the variety of very informative and engaging talks from academics and fellow interns."