Focus on Diversity - Alexandra Welsch, Germany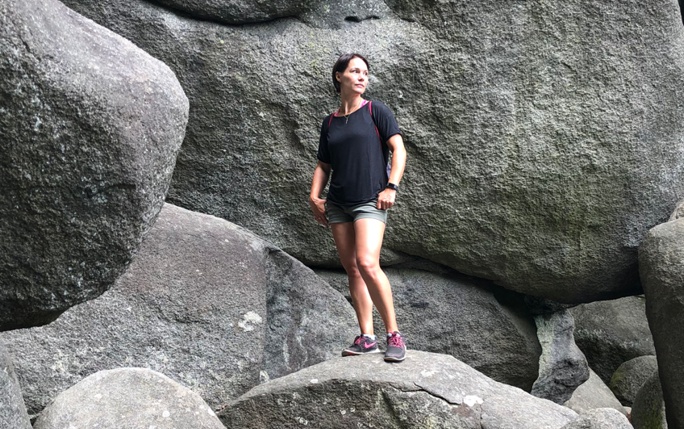 I grew up in Großwallstadt, a small community in Lower Franconia, in Bavaria. It was the perfect place to spend an untroubled childhood – playing tag in the streets, climbing trees, riding a bike in the countryside… I could not have imagined living somewhere else and moving abroad was not really on my bucket list. I am also quite a family person and the thought of living further away from my family than in the next town never crossed my mind.
But life had other plans…
The first big move brought me to the French-speaking part of Switzerland. Living in a foreign country, hardly speaking the language and not knowing what the future might bring was quite a challenge at the beginning. I had to learn the hard way that studying a foreign language in school doesn't automatically mean that you can just go and have a proper fluent conversation. It took quite a while to adapt to the different habits and personalities of the Swiss people…and I missed my family.
But I quickly fell in love with the country, the lakes, the mountains and the breath-taking views and found fantastic friends. I very much enjoyed the three years in Nyon, near Geneva, and part of my heart stayed in Switzerland when I left. I often dream of the walks on Lake Geneva with spectacular views of the magnificent Mont Blanc and the snow-capped Alps. The biggest lesson I learned from my move to Switzerland is that even if life puts obstacles in your way, don't give up, climb over and you'll find a whole new world behind it.
After a short year back in Germany, my journey brought me to the UK.
And again…another big step…new challenges…new habits…new personalities…new culture…new food…and a different kind of humour.
Brits and Germans could not be more different when it comes to saying what's on their mind. A real challenge when talking to British people, is the German directness. Germans value honesty over politeness. This can come across as quite rude and saw me in a few awkward situations.
Germans are also known for being very organised and methodical in the way they plan their work day and personal lives. It is normal to arrive 5-10 minutes early before a meeting at work (same applies to an informal get-together with friends) and to start the meeting promptly on the hour. Which means…straight to point one on the agenda…no time for small talk. Finding a meeting room empty when arriving 'on-time' made me quite nervous and left me frantically double checking if I had the right place and time in my agenda. In the meantime I got a bit more relaxed about it, all based on the motto - 'Keep calm and drink tea'!
But as before in Switzerland, after surviving the first phase of adapting to the new environment, I now very much enjoy living in the UK and most importantly - I found wonderful friends. Finding good friends, you can trust and rely on, is essential when your own family is far away.
Living in foreign countries broadened my view of the world. You gain a new understanding of your personal culture and values and realise that there is not only one 'right' way of doing something.

Ich komme aus Großwallstadt, einer kleinen Gemeinde in Unterfranken, Bayern. Es war der perfekte Ort, eine unbeschwerte Kindheit zu verbringen. Wir haben auf der Straße Fangen gespielt, sind auf Bäume geklettert und mit dem Fahrrad durch die Felder gefahren...ich hätte mir nie vorstellen können, jemals irgendwo anders zu leben, geschweige denn auszuwandern. Ich bin ein Familienmensch, und daß ich einmal weiter entfernt von meiner Familie leben würde, als im Nachbarsort, wäre mir nie in den Sinn gekommen.
Aber das Leben hatte andere Pläne ...
Der erste große Schritt brachte mich in die französiche Schweiz. In einem fremden Land zu leben, kaum die Sprache zu sprechen und nicht zu wissen, was die Zukunft bringt, war zu Beginn eine große Herausforderung. Ich musste auf die harte Tour lernen, dass das Erlernen einer Fremdsprache in der Schule nicht automatisch bedeutet, daß man sie auch ohne Probleme fließend sprechen kann. Es brauchte auch einige Zeit, sich an die Gepflogenheiten und die Kultur der Schweizer zu gewöhnen...und ich hatte großes Heimweh nach meiner Familie.
Doch nach kurzer Zeit hatte ich mich in das Land, die Seen, die Berge und die atemberaubende Aussicht verliebt und tolle Freunde gefunden, mit denen ich auch jetzt noch in Kontakt bin. Ich habe die drei Jahre in Nyon bei Genf sehr genossen und ein Teil meines Herzens blieb in der Schweiz, als ich ging. Ich träume oft von den Spaziergängen am Genfer See mit spektakulärem Blick auf den prachtvollen Mont Blanc und die schneebedeckten Alpen. Eine Lektion habe ich aus meinem Umzug in die Schweiz gelernt - selbst wenn dir das Leben Steine in den Weg legt, gib nicht auf, klettere drüber und du wirst eine ganz neue Welt dahinter entdecken.
Nach einem kurzen Jahr in Deutschland brachte mich meine Reise nach Großbritannien.
Und wieder ... ein weiterer großer Schritt ... neue Herausforderungen ... neue Gewohnheiten ... neue Persönlichkeiten ... neue Kultur ... neues Essen ... und eine andere Art von Humor.
Briten und Deutsche könnten unterschiedlicher nicht sein, wenn es darum geht zu sagen, was sie denken. Eine echte Herausforderung, wenn man mit Briten spricht, ist die deutsche Direktheit. Deutsche schätzen Ehrlichkeit über Höflichkeit und reden nicht lange um den heißen Brei herum. Das kann jedoch ziemlich schroff wirken und brachte mich in so einige unangenehme Situationen.
Die Deutschen sind auch dafür bekannt, dass sie bei der Planung ihres Arbeits- und Privatlebens sehr organisiert und methodisch sind. Es ist normal, 5-10 Minuten vor einem Meeting bei der Arbeit anzukommen (dasselbe gilt für ein informelles Treffen mit Freunden) um pünktlich zur vereinbarten Uhrzeit zu beginnen. Was bedeutet ... direkt zu Punkt eins auf der Tagesordnung ... keine Zeit für Smalltalk.
Einen Besprechungsraum leer anzufinden, als ich pünktlich ankam, machte mich zu Beginn ziemlich nervös und lies mich sofort in meinem Kalender kontrollieren, ob ich auch wirklich zur richtigen Zeit am richtigen Ort war. In der Zwischenzeit bin ich in dieser Hinsicht ein wenig entspannter, ganz nach dem Motto "Bleib ruhig und trinke Tee!".
Aber genau wie zuvor in der Schweiz, nachdem die erste Phase der Anpassung an die neue Umgebung überstanden war, habe ich das Leben in Großbritannien lieben gelernt und wundervolle Freunde gefunden, die mir sehr ans Herz gewachsen sind. Gute Freunde, auf die man sich Tag und Nacht verlassen kann, sind besonders wichtig, wenn die eigene Familie weit weg ist.
Das Leben in fremden Ländern hat meinen Blick auf die Welt ernorm erweitert. Man bekommt eine völlig neue Sicht auf seine eigene Kultur und Werte, und erkennt, daß es nicht nur einen "richtigen" Weg gibt, etwas zu tun.