Focus on Diversity - Volodymyr Rodin, Ukraine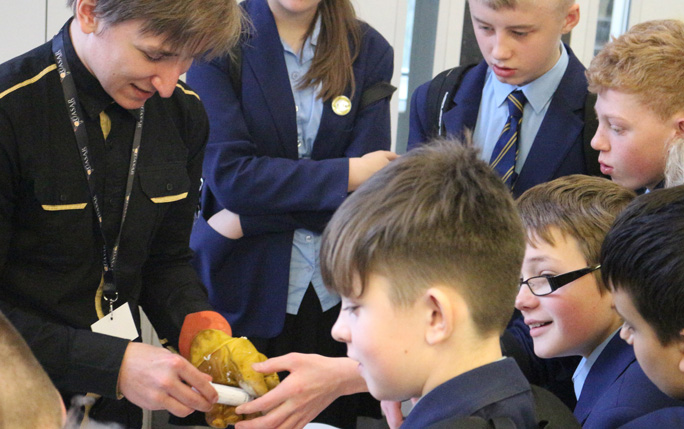 I was born in the small city Dubrovytsia, in the North-West of Ukraine near the Belarus border. It is a pretty curious place with an old and glorious history. In 2005, we celebrated its 1000th anniversary. During several centuries this territory was ruled by the Golshansky dynasty. This old Lithuanian family is famous for several reasons. For example, Anastasia Golshanska is the first translator of the New Testament into the Ukrainian language, the book used during taking the presidential oath of office.
Another famous son of this land is Georges Charpak, Nobel Prize Winner in Physics in 1992 for his contribution in high energy physics – development of the multiwire chamber. When I became an AVA fellow studying antimatter, I remember with a smile that his name was in the science-fiction book of Dan Brown "Angels and Demons" about stealing this substance.
Also, I have a twin brother. Before I came to UK, we always were thick as thieves. We both wanted to be awesome programmers, but then we became enthused by physics, which includes programming in almost all its branches. Together we studied this science in Kyiv National University. But before I got my Master in Nuclear Physics, I had felt a taste of researcher life during half-year internship in L.A.L, Orsay, France, and this career began to delight me even more. I was certain about my future job before graduation.
Currently, I am working in the University of Liverpool as a Marie Curie Fellow, but I spend most of my time in the Cockcroft Institute, which is located at Daresbury. My research interest covers a wide range of accelerator physics. Specifically, I am working on development new methods for studying of antiproton beam propagation in accelerator rings and its beamlines. I am really enjoying research work and the people working with me only intensify my passion for science.
Я народився в маленькому містечку Дубровиця, що на півночі України поблизу кордону з Білорусією. Дубровиця – надзвичайно цікаве місто, що має давню та славну історію. В 2005 році йому виповнилося 1000 років. В сиву давнину власниками міста були князі Гольшанські. Тож історія їхнього роду тісно переплелася з історією моєї малої батьківщини. Цей давній литовський рід знаменитий багато чим, наприклад, Гольшанська Анастасія – стала натхненницею перекладу на українську мову Євангелії – книги, на якій українські Президенти складають присягу на вірність своєму народові
Ще одним із найбільш іменитих синів цього краю став нобелівський лауреат в галузі фізики високих енергій Георгій Харпак. Тепер ставши fellow в проекті AVA, що займається дослідженням антиматерії, я з усмішкою згадую, як був здивований, коли зустрів його ім'я в книзі Дена Брауна "Ангели і Демони" про крадіжку антиматерії.
У мене ще є брат-близнюк Віктор. Ми з ним завжди були разом. Разом колись хотіли стати крутими програмістами, але потім захопилися фізикою, яка нині в багатьох галузях включає в себе і програмування. Наше подальше знайомство з цією наукою продовжилося в КНУ ім.Тараса Шевченка. Перед тим як, я здобув степінь магістра в галузі Ядерної фізики, мені вдалося відчути смак життя вченого підчас піврічного стажування в LAL, і ця професія почала мене захоплювати ще більше. Запитань, чим я хочу займатись після університету, не залишилось
Нині я працюю в університеті Ліверпуля, але більшість свого часу я проводжу в Інституті Кокрофта, що в Дарсбері. Я цікавлюся декількома галузями з фізики прискорювачів. Якщо ж більш детально, я працюю над розробкою нових методів для вивчення поширення пучка антипротонів в прискорювальних кільцях. Я дуже захоплююся своєю дослідницькою робото, і люди, що оточують мене протягом робочого тижня тільки підсилюють мою любов до науки.