Professor Atif Rahman honoured with International Contribution Award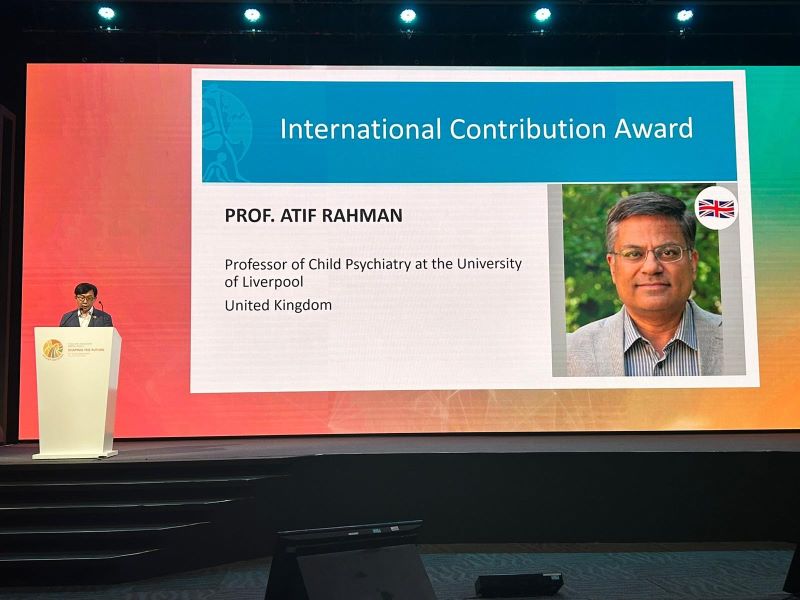 Professor Atif Rahman, Chair of Child Psychiatry & Global Mental Health at the Department of Primary Care and Mental Health, was honoured by the International Association of Child and Adolescent Psychiatrists and Allied Professionals (IACAPAP) for his services to global mental health.
IACAPAP is one of the world's foremost associations advocating the promotion of the mental health and development of children and adolescents through policy, practice and research.

The International Contribution Award was conferred at a special ceremony held at the IACAPAP 2022 Congress in Dubai on 7th December, 2022.

The chair of the nomination committee, reading Prof Rahman's testimonial, stated:

"Dr. Rahman is a clinician, an educator, an innovator and among the most established leaders in Global Mental Health. His work has touched the lives of many children in LMIC. He has led multiple transformative international projects in the areas of perinatal, infant, child, adolescent and adult mental health. Dr. Rahman has mentored generations of professionals around the globe, many of whom have become leaders themselves in global mental health."

The President of the Association, Dr Daniel Sheng, presented the Award.