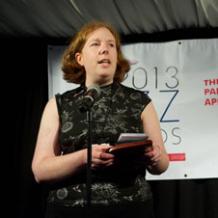 Prof
Catherine
Tackley
BA (Hons), PGCE, PhD
Professor of Music; Head of the Department of Music
Music
Professional Activities
Summary
Catherine is a co-editor of the Jazz Research Journal (Equinox), and is a member of the editorial boards of Studies in Musical Theatre (Interim Publications) and Music Education Research (Taylor and Francis). She is a member of the Council of the Royal Musical Association and the AHRC Peer Review College. She is Network co-ordinator for the National Co-ordinating Centre for Public Engagement ambassador scheme.

Catherine is recognised internationally as an expert on British jazz, contributing chapters on this subject to major publication projects on the dance bands worldwide, history of jazz in the European Union, and women in European jazz funded by UNESCO. She has also curated events in partnership with museums and institutions including the Aland Maritime Museum and the Royal Institute of British Architects. She has also been interviewed for several BBC television documentaries, acted as an advisor for TV period drama and is heard regularly on BBC Radio 3 and 4. Catherine is a regular pre-concert speaker at the Leeds International Concert Series and at some of the UK's pre-eminent jazz festivals.

Catherine is currently Jazz Representative on the Council of Making Music (supporting and championing voluntary music). She is active as a conductor and instrumentalist in both classical and popular styles and is founder and Musical Director of Dr Jazz and the Cheshire Cats Big Band.
Editorships
Music Education Research (Editorial Board Member, 2014 - present)
Jazz Research Journal (Co-editor, 2007 - present)
Studies in Musical Theatre (Editorial Board member, 2007 - present)
Professional Body Memberships
AHRC (Peer Reviewer, 2014 - present)
Royal Musical Association (Council Member, 2014 - present)
---