First Busteed Fellowship Prize winners announced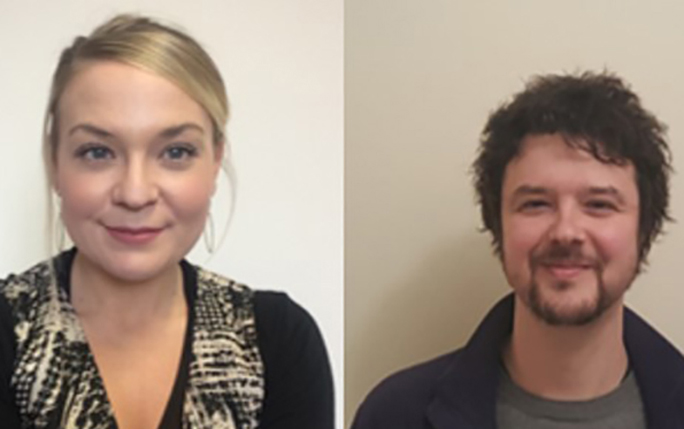 The first two of six successful Busteed Postdoctoral Fellowship Prizes have been announced by the University of Liverpool's Institute of Irish Studies.
Dr Ailbhe McDaid, who earned her PhD from the University of Otago, will examine literary and social responses to widows and bereaved women in 20th Century Ireland.
Dr Barry Hazley, who completed his PhD at the University of Manchester, will begin work on a new project entitled Terror and the Troubles in English Popular Memory: Remembering the Republican bombing campaign in England 1973 to present.
The Postdoctoral Fellowship Prizes have been made possible thanks to a generous donation to the Institute of Irish Studies by academic, Mervyn Busteed . A total of six fellowship prizes will be awarded over a five year period. Each successful award will be assessed on the basis of promoting research with an Irish theme, and in particular giving voice or recognition to groups who suffered marginalisation and persecution.
Professor Peter Shirlow, Director of the Institute of Irish Studies, said: "The generous gift that is the Busteed Postdoctoral Fellowship Prizes will make a significant contribution to its recipients.
"This prize provides an opportunity for emerging scholars to hone their skills and develop their career. We are indebted to Mervyn and Helen Busteed for providing such an opportunity for scholarly development."
Mervyn Busteed said: "We were very impressed with the high quality of the applicants. Clearly there is a great deal of ground-breaking research being conducted by scholars across the disciplines.
"I know it was difficult to choose between the top contenders, but we feel sure that the two successful applicants will go on to make substantial contributions to research in Irish Studies."
The Busteed Postdoctoral Fellowship Prizes aim to provide career development to those who have completed a PhD, and have a proven record of high quality academic output.
The subject of the award must be related to an academic analysis of a theme connected to the island of Ireland. It can be comparative in context. Each award should also promote values such as inclusivity, conflict transformation, social justice and cultural and/or economic inclusion.
Busteed Postdoctoral Fellowship Prize winners will work with a dedicated member of staff within the Institute of Irish Studies. That member of staff will offer advice, assistance and career mentorship to the successful Prize winners.
Two more Busteed Postdoctoral Fellowship Prize will be advertised this summer, with the successful candidates commencing in September.