Adagio sculpture installed in Harold Cohen Library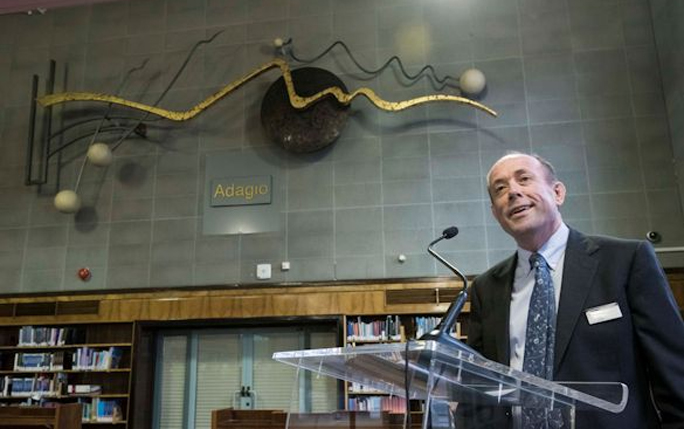 Master of Ceremonies and University Librarian Phil Sykes spoke at the unveiling of the Adagio.
The University has celebrated the unveiling of the Adagio sculpture as part of the latest refurbishment of the Harold Cohen Library.
The Adagio is a 30ft kinetic sculpture created by the silversmith Marianne Forrest. The sculpture is made of aluminium, glass reinforced plastic, copper and silver leaf and was acquired by the University following the refurbishment of the Liverpool Philharmonic Hall, where it was displayed for many years.
The ceremony, led by University Librarian Phil Sykes, was unveiled by Emeritus Professor Peter Goodhew, who campaigned for the Adagio to be moved to the University. Professor Goodhew was joined by Vice-Chancellor Professor Janet Beer and Marianne Forrest.
Donors, representatives from the Philarmonic Hall, and staff from across the University attended the event and enjoyed a performance by Musicians from the Liverpool Philharmonic Orchestra.
A new home
Professor Beer said: "It's entirely fitting that Adagio has found a home at the University. Hanging, as it did, on the wall of the Philharmonic Hall, it was part of graduation day for tens of thousands of our students and their parents.
"Locating it here also means the people of Liverpool can come and see it. The University takes engagement with the local community seriously and we welcome members of the public in to our libraries in a way that is very rare indeed among research intensive universities."
The Adagio statue can be viewed in the silent reading room in the Harold Cohen Library.