Student stories: Lucky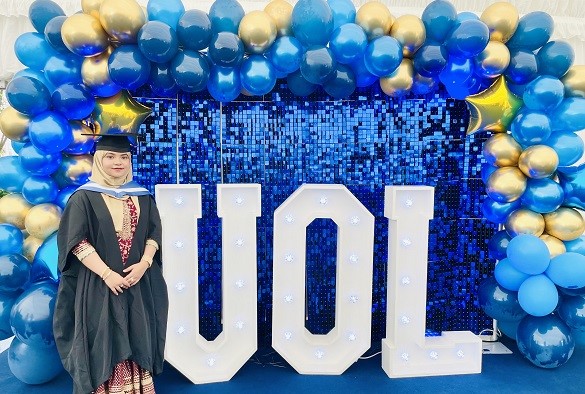 Through our Student Fund, we are making sure that students of every background can come to Liverpool and make the most of their time here – so they can go out into the world and make a difference. From providing emergency grants so students can pay rising bills, buy essential equipment and books, to scholarships for bright students fleeing conflict and turmoil, your support is changing lives. Read on to hear about what your support has meant to MSc Biological Sciences graduate, Lucky.
After four years of study at the University of Liverpool, Lucky graduated in the summer. Speaking about her time at Liverpool, she said: "It has been a wonderful experience. My time at the University has been enhanced by additional financial aid and I have been able to continue my studies without financial worries while also providing for myself as a student.
For four years, I have been receiving the Liverpool Bursary, which has greatly aided me in my educational endeavors."
During the pandemic and the move towards online teaching, Lucky was in need of digital support at home more than ever before: "During the COVID-19 pandemic, the loss of my father's job, who was the sole earner of our family, was one of our biggest financial challenges as a low-income family. As a result of not having access to a laptop, I was unable to complete my coursework and studies properly, which was directly affecting my studies and grades. I applied to the Hardship Fund and received a laptop which enabled me to continue my studies and supported me during my crucial academic period. I am beyond grateful for the support, encouragement, and inspiration I have received from my university community."
During this time, Lucky was accepted to the University of Oxford research internship programme. She added: "I found it really difficult to procure the essential materials and equipment needed for my internship. I was grateful beyond words to receive the bursary from the UP fund that not only supported me throughout my internship but also allowed me to have an incredible learning experience, and I felt more confident in achieving my goals because I did not have to worry about my financial stability and hardship during the entirety of the internship"
To the donors of the Student Fund Lucky shared: "Over the course of my four years at the University, I felt supported academically, emotionally, and financially. The bursaries and hardship funding allowed me to continue my studies and enjoy my university experience to the fullest. Due to the unprecedented circumstances created by COVID-19 and the sudden loss of my father's job, without any proper income backup and financial support, it would have jeopardized my daily life and education and could have adversely affected my academic performance. This may have resulted in further difficulties in life with further uncertainty to break the cycle of continuous financial difficulty."
Lucky has now joined the University as an Enterprise & Employability Executive with the Careers and Employability team. "Liverpool is a vibrant city, full of life and full of opportunities and I am very delighted to be now working here and spending more time at the University I love."
To find out more about the Student Fund and how you can support students like Lucky, visit our webpage.