Alumnus' gift in Will supports future generations of engineers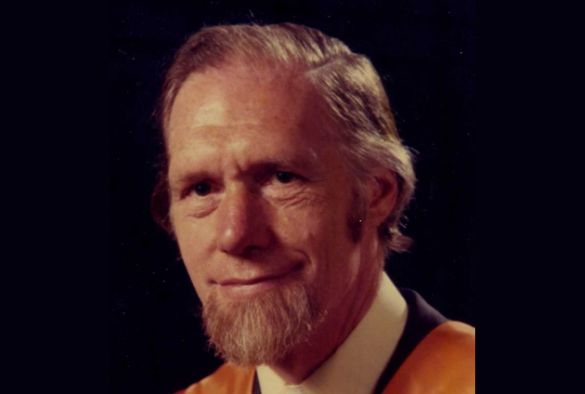 Over the past decade, more than 100 people have kindly remembered the University of Liverpool in their Wills. From cash gifts of £250 to shares of estates or fascinating personal items, our wonderful legacy community have provided vital funding which has enhanced the student experience, enabled crucial research programmes, supported scholarships and much, much more.
Today, we remember supporter and alumnus, the late Dr Rowland J Mainstone (DEng, FSA, MICE, FIStructE, HonFRIBA) who sadly passed away in February 2020. Dr Mainstone trained as a civil engineer at the University before embarking on a 30-year career with the UK Building Research Establishment in 1948, where he concentrated on the structural and architectural research of buildings and bridges. Dr Mainstone went onto write and published books entitled, Developments in Structural Form, and Hagia Sophia: Architecture, Structure and Liturgy of Justinian's Great Church.
Latterly, Dr Mainstone acted as a consultant on structural aspects of building conservation and restoration, and was Visiting Professor of architecture, structures, and structural conservation at University College, London, University of Leeds, and the Catholic University of Leuven.
The Mainstone family legacy is not only carried on by son, Robert who followed in his father's footsteps, graduating from the University in Engineering Science and Industrial Management in 1978, but also Dr Mainstone's grandson Fionnan who graduated in Mechanical Engineering in 2012.
A new prize will be established to honour Dr Mainstone's memory which will benefit second year students on a Civil or Architectural Engineering programme, who have distinguished themselves through excellence in design work, particularly in relation to sustainable development, taking responsibility to reduce infrastructure's carbon footprint and use their influence to bring about real change.
Michael Bather, Programme Director Civil Engineering said of the prize: "The Rowland Mainstone Sustainability Prize is our only prize specifically for our second-year students and this emphasises to them our belief in the importance of good and sustainable design. It will inspire and reward the enthusiasm of our students who are learning to design infrastructure for the future."
In addition to this, Dr Mainstone's gift in Will shall be used to inspire the many school children, from disadvantaged areas who take part of the IntoUniversity partnership project - perhaps some which will be the next generation of civil engineers.
#YourLiverpoolLegacy
Did you know that even a 1% gift in your Will would make a huge difference to future generations of students at the University? If you would like further information about joining our Liverpool legacy community, please contact Carolyn Jones (Legacy Officer) at carolyn.jones@liverpool.ac.uk or by telephone 0151 795 1067.