Name a Seat Stories: Patricia Pictor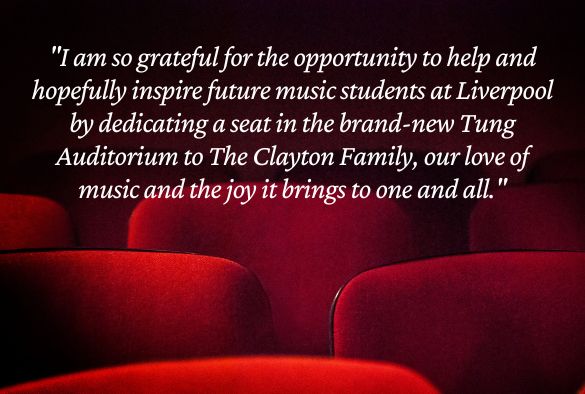 The Name a Seat was launched to support the introduction of the Yoko Ono Lennon Centre which opened its doors to the public earlier this year.
Many alumni and friends at the University chose to share the extraordinary stories behind their gifts in our Name a Seat stories series, and we are delighted to share the special story of donor and alumna, Patricia Pictor née Clayton (BA Hons Music 1979).
"I loved being a music student at Liverpool University from 1976-79 (Yeah Man!), making wonderful friendships that have lasted the test of time. The Music Department staff and my fellow students were great. The degree course though difficult at times was very rewarding. I enjoyed weekly clubs and societies like Choir, G&S and The Liverpool Singers directed by Dr Judith Blezzard. Indeed, it was a tour with them to Austria which proved to be the start of my singing career as I had a couple of solo verses! I can still remember the buzz of excitement and nervous energy as if it were yesterday.... but...it was 45 years ago!
My enjoyment was only marred by the loss of my dear Mam to cancer in 1978. All the staff at that time under Prof. Basil Smallman, especially Dr Robert Orledge, were so very kind in helping me through my struggles with her loss. We even named our first son, Rob, after him.
I've been very fortunate to have a long career in music, early on as a Professional Opera Singer and Concert Soloist both at home and abroad. Latterly I turned to teaching and was Choral Director to a couple of youth choirs who helped me to raise nearly £25,000 in aid of Macmillan Nurses who helped not only my Mam but subsequently my Dad and my sister during their long battles with cancer.
My family have always been musical - my Mam (a Church Organist) had a beautiful contralto voice, as did my sister, my Dad was a tenor (or as he would joke 'more of a fiver'!) and my brother is a lovely baritone singer and organist. We would sing around the piano on Sunday evenings after church...Ah! Happy, happy times and I am so grateful for the opportunity to help and hopefully inspire future music students at Liverpool by dedicating a seat in the brand-new Tung Auditorium to The Clayton Family, our love of music and the joy it brings to one and all."
The Tung Auditorium and its programme of events are open to all, whether you're a regular concert-goer, have a spare hour at lunchtime, or are just curious about what's in the building. To find out more, please visit the website.
We've saved you a seat...now put your name on it