Brain cancer campaign receives fundraising boost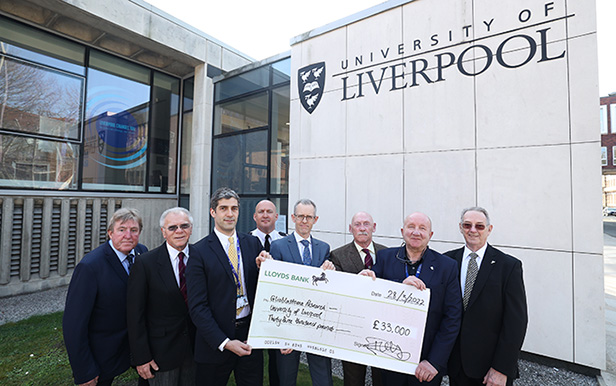 The University of Liverpool's new Glioblastoma (Brain Cancer) Fund, which launched in March this year, has got off to a good start, raising more than £40,000 towards its £250,000 target.
Mr Jim Corcoran BEM (pictured third from right), together with colleagues from a number of organisations including Masonic lodges across the region raised £33,000 to help kick start the campaign. In addition, the families and friends of Kevin O'Riordan, Ian Stuart and Michael Hopkins are all fundraising on behalf of their loved ones who sadly died of the disease.
Maria Gisbert Sorolla, whose husband Kevin died of brain cancer in October 2020, kindly shared her story in support of our fundraising campaign. Together with Kevin's family and friends, Maria recently launched their Seven4Kevin website, which is raising funds for the University's brain cancer fund, and which will see a PhD created in Kevin's name.
Maria said: "Kev was very passionate about science and deeply believed in the importance of research. The work the University is doing into brain cancer is something very important for us. By raising awareness, we hope to contribute to more treatment options for brain cancer patients."
Researchers at the University of Liverpool, together with The Walton Centre NHS Foundation Trust, are undertaking research into immunotherapy, a new type of treatment for cancer that works by manipulating the body's own immune system. Donations raised will help fund the PhD post that will undertake crucial research in this area.
The research is led by Professor Michael Jenkinson (pictured fourth from left), Professor of Neurosurgery at the University of Liverpool's Department of Pharmacology and Therapeutics together with Dr Rasheed Zakaria (pictured third from right) and Professor Christian Ottensmeier.
Professor Jenkinson and Dr Zakaria have helped organise and will participate in the annual meeting of the British Neuro-Oncology Society which takes place in Liverpool in June, where international speakers from around the world will share their research into glioblastoma.
Dr Zakaria said: "The use of immune therapies to help in the treatment of brain cancer is a potentially exciting area for us and one which, we hope, has great potential to help improve health outcomes for our patients. We are very grateful for these donations that will help fund our important work and would like to thank the families of Kevin, Ian and Michael, in particular, for their support."
To donate directly to the University's Glioblastoma Brain Cancer Fund, visit our donation page.
(photo L-R Mr Rusty Firmin, Mr Derek Parkinson, Dr Rasheed Zakaria, Inspector Chris Barnes (Merseyside Police), Professor Michael Jenkinson, Mr Jim Corcoran BEM, Professor Paul May, (University of Liverpool), Mr Howard Griffiths (representing Masonic charities)).