Name a Seat Stories: The personal stories behind the plaques, part twenty-one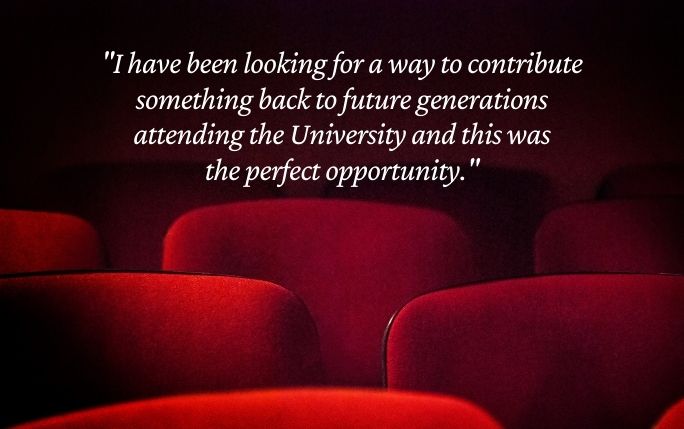 This week marks the official opening of the Yoko Ono Lennon Centre and The Tung Auditorium. We couldn't have made this happen without the support of alumni and friends of the University, and to all who have named a seat, we are truly thankful. Read on for our twenty-first instalment of the stories behind the seats.
"As I am from Liverpool myself, I am proud to have such a fantastic institution in my city. I was lucky enough to have attended the University of Liverpool and gain my BSc which has set me up for a successful career and still influences my thinking today. I have been looking for a way to contribute something back to future generations attending the University and this was the perfect opportunity." Robert Armes (BSc E-Business 2005)
_______________________________________________________
"I graduated from the University of Liverpool in 2015 – my graduation was a very special moment because I was with my family and friends. I'm from Brazil but back then I was living in Sydney, Australia and hadn't seen my loved ones in a while. It was a very emotional moment; I was graduating, I received an honorable distinction in my master's, and I was sharing this achievement with my most special people." Vitor Fabian Brock (MSc Information Systems and Technology 2015)
_______________________________________________________
"We are two plus two students from China, and he is one year higher than me. Suffering through one year long distance relationship, we finally be together with each other in this foreign land. Every time we go to the library, we walk through the auditorium. Since the university is the bridge of our love, we hope to keep this memory here. Love makes this three years hard working meaningful for our common future. Chaste love, always there." Zhiyuan Pan (Mathematics with Finance 2017)
_______________________________________________________
"I was innocent but I left a trace of evidence. It could have been a big stain on my career. What kept myself and my wife, Priscilla, moving was the lyrics of a song title "Onise Iyanu" by Nathaniel Bassey. In those difficult times, I met a high profiled "Igwe" one on one of the D-Day who explained the name Onise Iyanu to me. I immediately phoned Priscilla and we both made a vow that should God come through for us, acquit and declare my innocence, the first child He gives to us, be it a male or female, will be called Onise-Iyanu. And so He blessed us with a daughter, and we called her Onise-Iyanu Opare Mintah." Enoch Opare Mintah, MBA student
_______________________________________________________
"I spent 3 wonderful years reading law at the University (1987-1990). Since graduation, I have been back a number of times and every time I visited, it brought back fond memories. Including myself, the Faculty of Law had educated two members of my family and there may be more to come in future. Hailing from Hong Kong, I am delighted to have the honour of naming a seat in an auditorium gifted by the Tung Foundation which has strong Hong Kong links." Rasul Butt (LLB Hons 1990)
_______________________________________________________
To find out more about this campaign, please visit our dedicated webpage. To visit the Centre or the Auditorium, you can book onto one of the upcoming events on The Tung Auditorium website here.
We've saved you a seat...now put your name on it