Name a Seat Stories: The personal stories behind the plaques, part twenty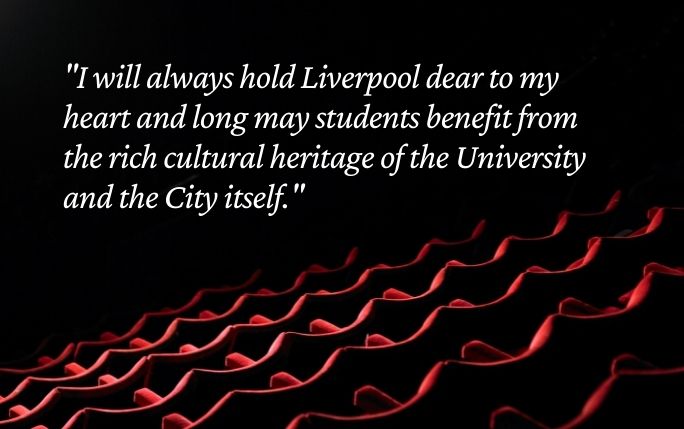 The Name a Seat campaign has brought together students, alumni, staff, and friends of the University in a unique way. With the Centre now open and guests starting to visit, we are excited to share the special stories behind the 400 seats in The Tung Auditorium:
"I have been a member of staff at the University of Liverpool since 2005 and I very much enjoy working at the University. From an early age, my daughter, Mary-Lou liked to visit the University and I always felt that having a familiarity with academia prepared her well for her own studies. Mary-Lou graduated from The University of Sheffield, with an LLB in July 2019. She returned to Sheffield in September 2019 to start an MA in Political Theory. Mary-Lou was vibrant, inquisitive, intelligent, funny, kind, caring and an inspiration to all. Tragically in January 2020, she died suddenly and unexpectedly of meningio-encephalitis – secondary to a viral infection, aged 22 years. As a music-lover, she had chosen her funeral music (!) the song that her boyfriend and friends insisted must be played was Across the Universe by The Beatles. The chorus has rung in my ears many times as a message from her "nothing's gonna change my world… Jai guru deva om".
Thank you Mary-Lou and thank you University of Liverpool for the opportunity to honour her in this way." Julie Crane, Senior Lecturer in Nursing
_______________________________________________________
"Eleanor Kay Ashton (MB ChB 1954), nee Scott, was born on the Isle of Man on 8 Jan 1930. She did well at school but only went to university following pressure from her determined aunts. At Liverpool University Medical School, she received the Henry Briggs Memorial Medal in Obstetrics and Gynaecology as well as the Deans Medal "for skill with the eye, the ear and the hand", graduating in 1954. She worked in the Isle of Man and some of the Liverpool hospitals, then following her marriage (Andrew Keith Frazer) they emigrated to Australia (£10 poms!). She returned to the Isle of Man with her 2 sons in 1967 and worked as a single handed GP. On her second marriage her surname changed to Ashton. In her 60s she went to China to study acupuncture. She retained a great interest in medicine even on retirement and passed away on 23 Aug 2021 aged 91." Scott Frazer
_______________________________________________________
"The degree helped me to achieve my life dream. After 27 years of being an employee, I managed to get back to the students seat through this wonderful program." Adel Mallawi (MBA 2019)
_______________________________________________________
"I attended the University of Liverpool and did a Bachelor of Commerce Honours Degree between 1970 and 1973. It was when the Mersey Sound and Beatlemania was off the scale so to be in Liverpool and go to places like the Cavern Club, the Royal Philharmonic, the Liverpool Empire etc was unbelievable. I played football for the University and had the privilege of numerous training sessions with the great Ian St John. Unfortunately I was not good enough to be offered a contract to play centre half for the magnificent Liverpool team of that era!!
I will always hold Liverpool dear to my heart and long may students benefit from the rich cultural heritage of the University and the City itself." Matthew Cleary (BCom 1973)
_______________________________________________________
"My father, Roy, studied Biology at Liverpool and went on to be Head of Science at Formby High School as well as being an examiner in Biology and Botany for the Cambridge exam board. My mother Jean worked as a lab assistant at the University and later ran homeless shelters in Merseyside. My stepmother Pepi worked as a nurse in several Liverpool hospitals before becoming a health visitor. I was born in Liverpool and though I have lived subsequently all over the world, found myself many decades later studying at the University and now work in the Electrical & Electronic Engineering Department." Dr Christopher Taylor (MSc Advanced Computer Science 2021), Postdoctoral Researcher in Department of Electrical Engineering and Electronics
_______________________________________________________
To find out more about this campaign, please visit our dedicated webpage. To visit the Centre or the Auditorium, you can book onto one of the upcoming events on The Tung Auditorium website here.
We've saved you a seat...now put your name on it