Name a Seat Stories: The personal stories behind the plaques, part fifteen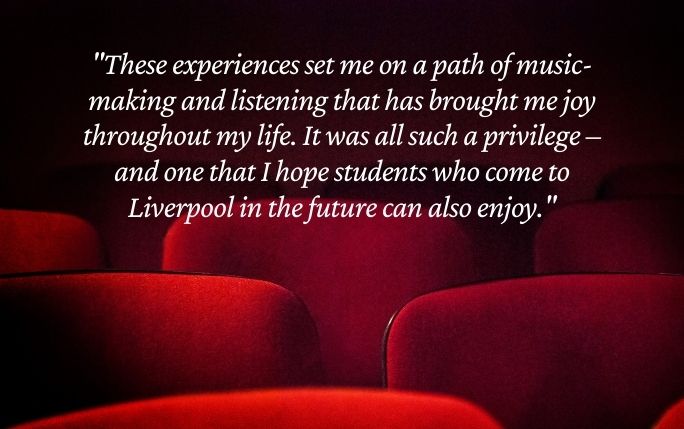 The special stories behind the seats within The Tung Auditorium have brought the campaign to life. With just under a year until the opening of the Yoko Ono Lennon Centre, we are delighted to share with you the latest instalment of our Name a Seat Stories series.
"I got my MSc in Project Management from the University of Liverpool in 2017. It was a wonderful and challenging experience that helped me increase my knowledge of the field and improve my language services business. It also gave me greater pride and confidence, as I was honoured with the School of Management's Dissertation of the Year Award. The benefits I reaped from sharing my ideas and experiences with my fellow students during the programme and the satisfaction I felt at having my work recognized were invaluable". Courtney Keeling Greenlaw (MSc Project Management 2017)
_______________________________________________________
"Our daughter chose to study at the University of Liverpool for obvious reasons: the quality of its education and research, first-rate facilities, friendliness of its staff on open days, the stylish campus, its international connections and the University's enduring and affectionate relationship with Ireland.
In December 2019 my wife and I attended a Christmas concert that my daughter performed in at the Student Guild. We got to see a huge range of talented students from all parts of the University perform to a large and appreciative audience of friends, parents and members of the community. We were touched by the enthusiasm and commitment of all concerned.
The new auditorium will give all students - those enrolled in music courses and those in musical societies- a much better space to perform and will undoubtedly take the quality of musical performance to new heights. The University of Liverpool's decision to fully support this initiative and commitment to the performing arts reaffirms its place as the UK's most cherished University". Edward Bressan
_______________________________________________________
"The University of Liverpool has given me the best job in the world and the opportunity to succeed educationally, beyond my wildest dreams and expectations (of myself). How lucky am I?" Dr Carol Costello, Director of People and Services and the University of Liverpool
_______________________________________________________
"I am an alumnus of the University of Liverpool. I was in Liverpool from October 1968 to March 1974, at which time I graduated MEng and PhD from the Department of Mechanical Engineering. I was active in the Catholic Society and was President of Third World First. I played tennis and football (mostly five-a-side) and had made lots of friends.
I am naming the seat for my wife Maria who died from cancer in 2010 and whom I still miss tremendously. She was a concert pianist and obtained her LRSM whilst studying English at the University of Malta. She spent 17 years as a member of the Management Board of our national theatre, the Manoel Theatre built in 1732 and still functioning. I commissioned two compositions in her memory, a concerto and symphony, both for orchestra and piano, both of which were premiered at the Manoel Theatre". Professor Robert Ghirlando (MEng Mechanical Engineering 1969, PhD in Engineering 1974)
_______________________________________________________
"This seat is dedicated to my parents Tommy and Elsie, major supporters of and contributors to the Liverpool Arts scene after the war, who so enthusiastically encouraged me to follow my dream to become a full-time musician when I left school in 1969.
The Beatles naturally played a huge role in this decision too. They provided the soundtrack to my youth, and, like so many kids growing up in the sixties, all I truly wanted was to be "one".
As fate would have it, sometime later I nearly was! In 1980 I co-founded the country's very first Beatle tribute band, the Bootleg Beatles, who still perform for Beatle fans of all ages after 40 years". Neil Harrison
_______________________________________________________
"I sang a lot when I was a student – in big concerts at the Phil with the Liverpool Philharmonic Orchestra and in smaller Chamber Choir concerts (even though I wasn't a music student). I went regularly to orchestral concerts in the Phil and classical concerts on campus, too.
I also rocked (slightly sedately, it has to be said) at concerts in the Union and St George's Hall – covering all bases!
These experiences set me on a path of music-making and listening that has brought me joy throughout my life. It was all such a privilege – and one that I hope students who come to Liverpool in the future can also enjoy". Professor Gillian Parker (BA Hons Psychology 1973)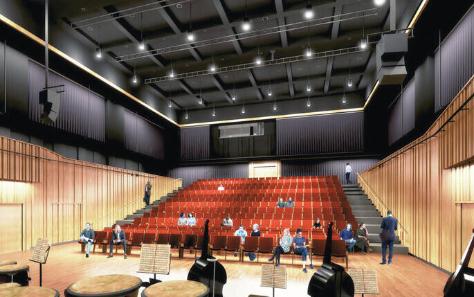 The Yoko Ono Lennon Centre will open to the public in spring 2022. We look forward to welcoming you to the Centre soon.
If you would like to be part of this legacy, visit our dedicated webpage. If you would like to share your story, please email: giving@liverpool.ac.uk
We've saved you a seat...now put your name on it