University's specialist Maths School welcomes Liverpool tech entrepreneur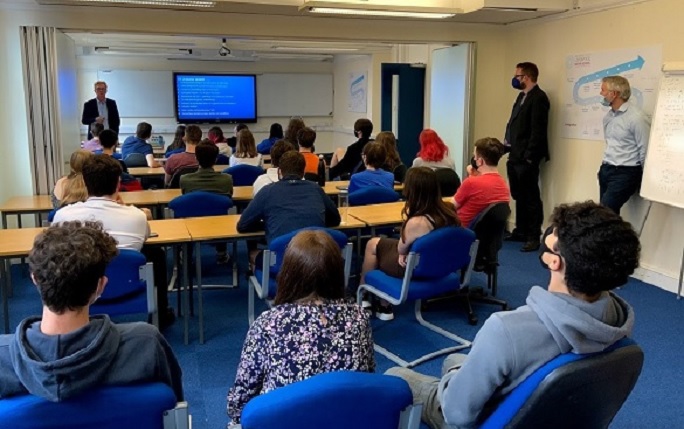 Dr Steve Garnett, the Liverpool-born software entrepreneur and investor, visited the University of Liverpool's specialist Maths School to talk about the opportunities available through studying mathematics and how his own love of maths helped him build his successful career in the technology sector.
Dr Steve Garnett was born in Fazakerley and has had a distinguished career in the software industry. He has been on the Executive team of three of the world's most successful software start-ups – Oracle, Siebel Systems and Salesforce.com – and prides himself on having gone "from Everton Valley to the top of Silicon Valley".
The University of Liverpool Mathematics School offers a world-leading maths education for talented young mathematicians from all backgrounds in the Merseyside region.
It welcomed its first cohort of students last autumn who are currently studying an innovative and challenging A Level curriculum in Maths, Further Maths, Physics and Computer Science specifically devised to give them a deep and flexible understanding of mathematical sciences.
During his visit, Steve shared his own experiences of studying maths at school and spoke of the critical role his maths teacher played in encouraging him to go on to study A-Levels. After taking A Levels in Maths, Further Maths and Physics, Steve studied Maths at Cardiff University and then completed a PhD in Theoretical Physics at Manchester University.
Steve gave students advice about their studies and their careers and urged them to make the best of their talents, stepping out of their comfort zones to grasp opportunities when they arise. He is keen to see more Merseyside students be inspired to study Maths and made a generous donation to the School to support their activities.
Head teacher of the University's Mathematics School, Damian Haigh, said: "It was a real pleasure to welcome Steve to our School and to be able to explain how we are providing young people who are passionate about mathematics with the opportunity to excel in maths. I was also able to discuss with Steve how, through our outreach work, we are working to raise aspirations and attainment levels in mathematics across the region. Steve witnessed students working in highly effective teams to solve challenging mathematical problems; something that is a regular feature of education here.
"Steve is a very successful business man so it was great for our pupils to hear how his education in mathematics has helped him in his career and for our students to gain insights into how technical roles can lead into the most senior roles in the world's biggest companies.
"We are truly grateful for the time spent with our students today and the wonderful donation. We hope our future business leaders in school can remember this philanthropic action and give back themselves in the future."
Dr Steve Garnett said: "I was delighted to spend the day with Damian, his teaching team and the talented students. Lack of confidence kills more dreams than lack of ability and I saw lots of ability. I just wanted to encourage the students that they can go on and achieve huge success. Businesses are crying out for problem solvers and that's what studying maths teaches you."
For further details on the University of Liverpool Mathematics School, please visit their website: https://liverpoolmathsschool.org/ or you can follow them on social media: Facebook, Twitter & Instagram