Name a Seat stories: Sally Rance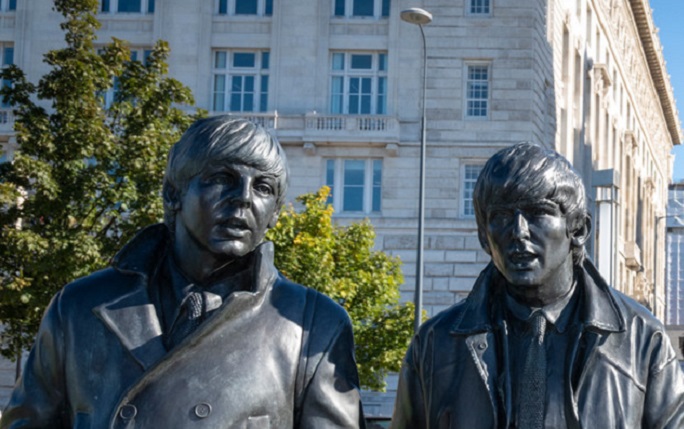 In celebration of the new Yoko Ono Lennon Centre, set to open late 2021, alumni and friends of the University of Liverpool are invited to leave their personal mark on the new 400-seat Tung Auditorium at the heart of the Centre. In another of our Name a Seat stories, we spoke to Liverpool-born Beatles fan Sally Rance, who shares some of her memories of the Beatles and why she was inspired to name a seat.
Born in Liverpool and brought up in Kirkby, Sally is returning home to Merseyside this year after 40 years living in London. Sally said: "I am now retired having spent most of my career in the Probation Service. I have two sisters, numerous cousins and an aunt living in the area, and I am looking forward to exploring Liverpool and being involved in its rich culture again."
After hearing about the Yoko Ono Lennon Centre fundraising event 'From Liverpool with Love' from her brother-in-law, University of Liverpool alumnus Alan Bell, Sally felt inspired to name a seat in the Tung Auditorium. Sally said: "As a lifelong Beatles fan I am happy to make a small contribution to the project and feel honoured to be able to have a seat dedicated to me. The Centre will enhance the city's cultural heritage and make a great contribution towards students' learning and performance. It will also provide positive publicity for the University and City."
Through her fandom, Sally has some fantastic memories of life in Liverpool in the midst of 'Beatlemania'. She said: "I first saw the Beatles live at the Liverpool Empire when I was 12 so probably around 1962/3. I went with my elder sister, Rosemary, and her then boyfriend, now husband, Alan. I saw the Beatles three times in all but it was this first experience that really sticks in my mind."
"I wore a yellow homemade dress and white three-quarter socks. Roy Orbison closed the first half of the show and there was a cast of many including Gerry and the Pacemakers and Freddie and the Dreamers. I was instructed by my sister not to scream but I did! It is sad that I didn't really hear a great deal of the Beatles singing but, in those days, the thrill of just seeing them and screaming was enough. I was a member of the Beatles Fan Club and have three of their Christmas Fan Club records. I also have three programmes from the shows I saw and these are now in a picture frame."
For Sally, her connection to the Beatles came closer in 1965 when she received a letter from the band: "I was an inpatient at the Royal Liverpool Children's' Hospital in Heswall, which incidentally was the same hospital where Ringo had previously been a patient. I was almost 14 years old and through my sister and a neighbour, Tony Priestly (who was in the group, called Earl Preston's' Realms), they arranged for Freda Kelly, the Northern Fan Club Secretary, to ask the Beatles to write me a letter. George wrote the letter and the rest of the Beatles signed it. To receive it was a great thrill!"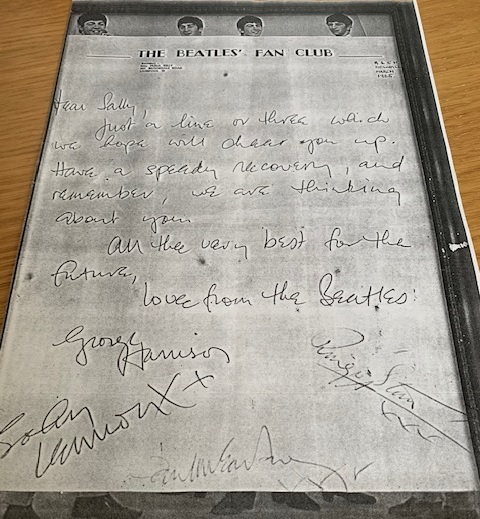 The letter reads: "Dear Sally, Just a line or three which we hope will cheer you up. Have a speedy recovery and remember, we are thinking about you. All the best for the future. Love from the Beatles."
We are incredibly thankful to Sally and all the supporters of our Name a Seat campaign who are supporting the city and the University's cultural heritage and enabling us to make the arts accessible to everyone.
To find out how you can play your part, visit our Name A Seat campaign page.
We've saved you a seat...now put your name on it.