IntoUniversity provides remote support to North Liverpool students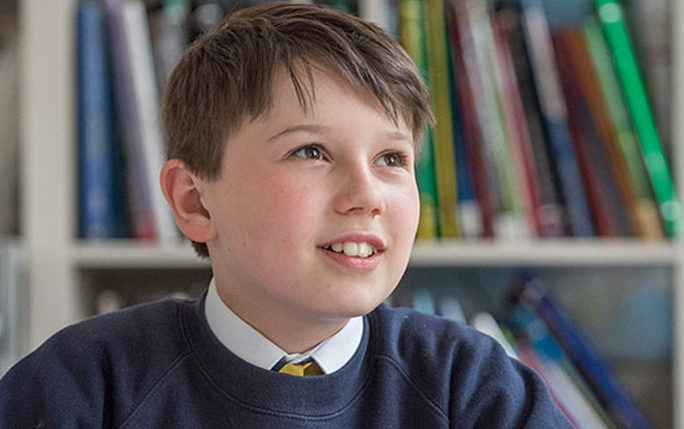 Responding to the challenges of school closures over the past year as well as their own centre closures, IntoUniversity centres across the country have increased their plans to provide remote support to their students, continuing their mission to combat the learning gap at a time when this support is needed more than ever.
In collaboration with charity IntoUniversity and the LFC Foundation, IntoUniversity North Liverpool first opened its doors in 2017 to support the educational learning gap experienced by children in North Liverpool, encouraging them to achieve at school and aim for Higher Education.
The roll out of IntoUniversity's remote support plan commenced in March 2020 at the time of their centre closures and has since become a key strategy in how the charity delivers its programmes. Since the beginning of 2021, more than 150 children and young people in North Liverpool have accessed support from the centre.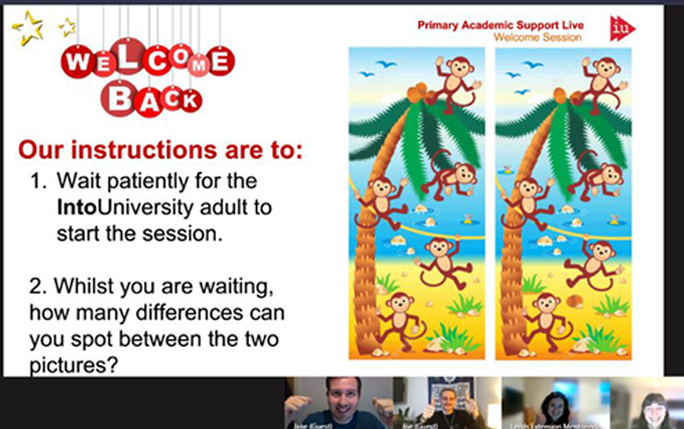 Screenshot of the IntoUniversity Leeds South team before their first virtual Primary Academic Support welcome session
Academic Support
Working in collaboration with centres in North Manchester and Leeds, the team at North Liverpool have continued to deliver their Academic Support sessions live online allowing students to engage with their peers and continue their academic work. Although a large portion of their support has moved online, the team have worked hard to ensure all children receive the same access to teaching from home. Children unable to access their virtual activities are sent printed curriculum materials and provided with phone tutoring, which also provides an opportunity for a pastoral check in.
Secondary students have been attending 'drop in' sessions for homework support, stress management and revision techniques, and have access to one-to-one phone support where required.
Primary and Secondary FOCUS Workshops
Working closely with partner schools, IntoUniversity North Liverpool has ensured that their Primary and Secondary FOCUS Workshops have continued. The workshops revolve around raising aspirations, with sessions on 'What is a University?', as well as week-long subject-themed weeks on areas of study at university and future career prospects.
Set to take place in late spring, the Year 6 FOCUS Week, a key activity in the IntoUniversity North Liverpool calendar, involves five sessions where students are immersed in university experience and culture, including curated visits to the University of Liverpool campus. Unable to facilitate such a visit due to restrictions, the children will instead access the workshops online, tour the campus virtually and graduate from FOCUS Week during an online ceremony.
Secondary FOCUS Workshops concentrate on increasing student knowledge on career opportunities and development of soft skills, such as leadership and teamwork.
Mentoring
Supported by University of Liverpool student volunteers, the North Liverpool Mentoring Programme pairs a university student and North Liverpool student. The centre currently has thirteen pairs who meet virtually, either weekly or fortnightly, to work on academic, social or future goals. Niamh Meehan, Education Worker and Primary FOCUS Coordinator at IntoUniversity North Liverpool, said: "Our University of Liverpool student volunteers provide invaluable one-to-one support to our young people who are benefitting from extra support and a friendly face now more than ever."
Closing the learning gap
IntoUniversity's mission has always been to close the learning gap. Their key activities are geared towards providing support and opportunities to young people who wouldn't otherwise have the support they need to achieve at school. The lockdown periods experienced by students over the past year will have undoubtedly had a deepening impact on the existing learning gap, but IntoUniversity remain more determined than ever to support their students, with a central team dedicated to lost learning.
Niamh said: "Main changes to our programmes include the notable absence of external trips and guest speakers. IntoUniversity has manoeuvred this hurdle with the brilliant flexibility of our partners and workshop providers through video calls and recordings, ensuring that our young people are not missing out."
"We often provide a safe haven for our young people, where they know what to expect and that they can rely on us to be a constant place of positivity. One simple but vital way in which we are achieving this is by keeping the majority of our virtual sessions and pastoral phone calls made by someone that they know."
"Our values of compassion, quality, teamwork, aspiration and talent are at the heart of everything we do. This has not changed and will not change with challenges that arise as a result of the ongoing pandemic. This is reflected in the commitment that IntoUniversity has to carry on working with our students at the high standard that they, and our schools, deserve. For now, our centres must remain closed, but we are still very much here for our young people and communities."
Thanks to the support of donors and the dedicated team at the North Liverpool centre, the vital work of IntoUniversity has continued to be a lifeline of support for young people to keep them on track with their education and future. To find out how you can continue to support IntoUniversity, please visit their dedicated webpages here.