Name a Seat Stories: Project architects support campaign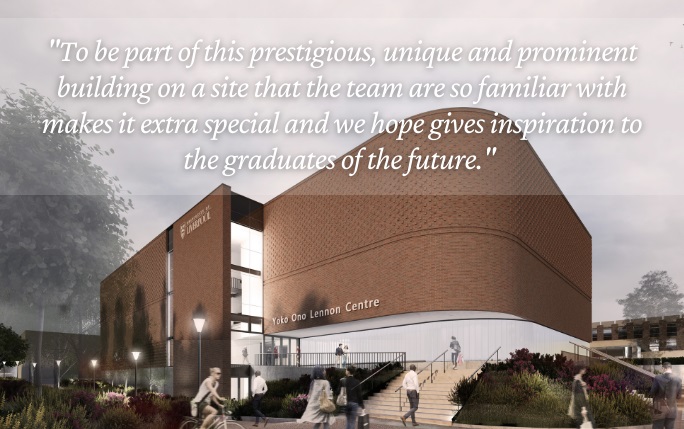 Project architects, Ellis Williams Architects, have supported the Yoko Ono Lennon Centre by naming a seat within the Tung Auditorium.
Ellis Williams are the award-winning practice behind the Baltic in Gateshead and the Storyhouse in Chester. Their development of the Yoko Ono Lennon Centre came after their successful proposal of a multipurpose building with four storeys, including the provision of two high-quality lecture theatres as well as a 400-seat, acoustically optimised music performance space.
Leading Project Architect for the centre, Jade Meeks (BA Hons Architecture 2015, MArch 2015), and Senior Associate, Mush Saleri (BA Hons Architecture 1995, BArch Hons 1998), are the alumni team behind the state-of-the-art centre.
As University of Liverpool graduates leading on the design of the projects, Jade and Mush said: "It has been a huge honour and thrill for Ellis Williams Architects to deliver the design for the Yoko Ono Lennon Centre, especially because the team behind the design are alumni of the University of Liverpool. To be part of this prestigious, unique and prominent building on a site that the team are so familiar with makes it extra special and we hope gives inspiration to the graduates of the future."
Ellis Williams' commitment to the project goes beyond the design, Jade and Mush said of their donation to the project: "Naming a seat means we will forever have our name in history recognising our contribution to this prestigious and important project for our team, the University and the wider city region. It was also important to help build on our commitment by supporting the fundraising which is helping to make the world's greatest music accessible to all and enabling students to continue to pursue their artistic and academic dreams."
We are very thankful to our partners Ellis Williams Architects and all of the supporters of our Name a Seat campaign.
Thanks to the generosity of our supporters, we have successfully raised £2.1m for the new Yoko Ono Lennon Centre, with just £900,000 left to raise. The Tung Auditorium will be located at heart of the new centre when it opens in late 2021. We are inviting you to play a leading role in this project by naming a seat as a personal way to leave your mark on the University.
To find out how you can play your part, visit our Name A Seat campaign page.
We've saved you a seat...now put your name on it.