Name a Seat Stories: The personal stories behind the plaques, part nine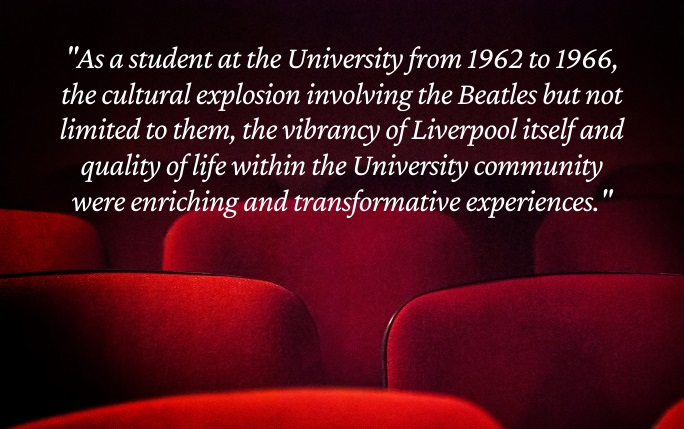 The Name a Seat campaign has brought together students, alumni, staff, and friends of the University in a unique way. Almost half of the 400 seats in the Tung Auditorium have now been named, each seat holding a special story. You can read some of these stories below:
"I am planning to return to Merseyside after 40 years living in London and am delighted to have this opportunity to contribute to the Tung Auditorium. I have no direct connection with the University of Liverpool but have been a lifelong fan of the Beatles. I saw them live at the Liverpool Empire on 3 occasions and continue to enjoy their music. When I was 14 and in hospital, I received a handwritten letter from the Beatles which I still have today. I am pleased to hear that Liverpool University provides studying opportunities for other to learn about the Beatles, their music and legacy." Ms Sally Rance
______________________________________________________________
"I had the most wonderful experience at University of Liverpool for four years (during my LLB (Hons) years and my Masters degree). I was the recipient of the Hillsborough Trust Memorial bursary in my first year and was delighted to work with the alumni office once during my studies to call graduates to try and secure donations for the various fundraising campaigns. It was then I realised that when I received a call from the university in the future, I would be open to providing a donation as it was only fair that I give back to the university that supported me. I received a call on 01 March 2020 and I was only too happy to gab to Sana. I spoke about changing my career from law to insurance broking which has been a great career so far and was struck by the Name a Seat campaign. I was only too happy to support this and requested this be named after my mum Cathy Lynch who passed away after a brave battle with cancer in 2018. To name a seat after her at a university I loved is so poignant." Miss Emma Lynch (LLB Hons Law, 2011, and LLM International Business Law, 2012)
______________________________________________________________
"I studied Veterinary Science at the University of Liverpool (1980-85) and was inspired by Mr Derek Lewis to become interested in ophthalmology. I subsequently studied Medicine at University of Manchester and am now a Consultant Paediatric Ophthalmologist at Leeds Teaching Hospitals NHS Trust. I have always loved music and have sung with The Soul Surgeons band since 1996. I am delighted to support the Tung Auditorium. Music is also important to my four (named) children. One day, either them or their children might find themselves in the auditorium!" Mr Ian Simmons MRCVS (BVSc Veterinary Science, 1985)
_____________________________________________________________
"The University of Liverpool shaped Raymond's life in significant ways. For starters, he met his wife Diana while studying there, and together they have three wonderful children. Architecture provided Raymond training in diverse fields: art and culture, design, science, project management and construction. Equipped with such training, Raymond was able to expand his horizon, and today in his role as Chairman, he heads up the property portfolio, film studio assets and charitable activities of one of Hong Kong's most storied community benefactors, the Shaw Foundation. Since its inception, the foundation has supported over 6,000 worthy projects in art and culture, healthcare, and education worldwide. Raymond is forever grateful to the University for paving his path forward to not only personal achievement, but to the significant contributions to society which he has been so privileged to lead." Mr Wai Man Raymond Chan (BA Hons Architecture, 1983 and BArch Hons Architecture, 1987)
______________________________________________________________
"I was privileged to be at the university from 1962 to 1966. The cultural explosion involving the Beatles but not limited to them, the vibrancy of Liverpool itself and quality of live within the University community were enriching and transformative experiences. After graduating I was President of Derby Hall. I probably learned more in this year than in any other year of my life. I am still in touch with several of my contemporaries and I think that we all agree on how much we owe to the University of Liverpool." Mr David Lovegrove (BSc Physics, 1966)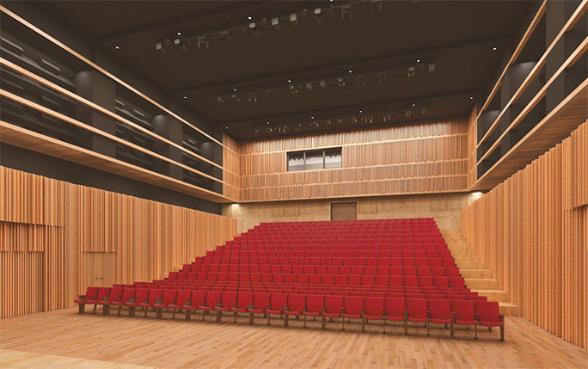 The Tung Auditorium will be located at the heart of the Yoko Ono Lennon Centre. With just under a year until the Centre's opening, we are incredibly thankful to the support of alumni and friends in bringing this wonderful building to campus.
If you would like to part of this legacy, click here. If you would like to share your story please email: giving@liverpool.ac.uk
We've saved you a seat...now put your name on it