Fundraising shave raises £685 for University's COVID-19 Research Fund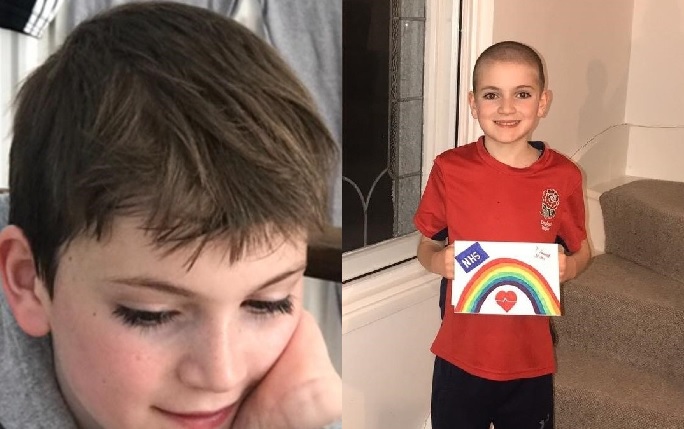 The University of Liverpool has been overwhelmed by the support of its community in raising money to fund essential research as part of its COVID-19 Emergency Response Campaign. One of these individuals is James, aged 9, and his dad, who braved shaving their hair to raise £685 for vital research at the University.
After an attempt at a lockdown haircut didn't quite go as planned, James and his dad decided to shave their hair to raise money for the University of Liverpool's COVID-19 Emergency Response Campaign. James said he wanted to raise money for COVID-19 as his mum and dad work at the University.
James' mum, Anita, also works in the Liverpool University Hospitals NHS Foundation Trust and at the Wolfson Centre for Personalised Medicine where she has assisted with COVID-19 research within since its outbreak. Staff at the Centre undertake extensive research to understand, predict and prevent Adverse Drug Reactions, and their work since the outbreak of COVID-19 has been redirected to this priority research.
Since setting up their JustGiving page, James and his dad have raised an incredible £685 towards the COVID-19 Research Campaign. James added a poem to the page:
"My mum is a nurse, she works in research too,
To understand the virus, and stop it reaching you.
Dad and I are home, trying to do our bit,
We're working really hard, to make sure we stay fit.
I couldn't go the barbers, to tidy up my mop,
So instead Dad used the clippers, for a rather shorter crop!
Mum had such a shock, when she seen my hair,
So we decided to raise funds, for the NHS and those that care xx"
We are incredibly thankful to James and his dad for their fundraising achievements, and of course to Anita and her team for their invaluable research work.
If you would like to find out more about how to fundraise for the University or if you would like to share your story, please get in touch with us by emailing: giving@liverpool.ac.uk.
If you would like to make a gift towards the COVID-19 Emergency Response Campaign please click here.