Lord Leverhulme's Charitable Trust visit new Equine Isolation Unit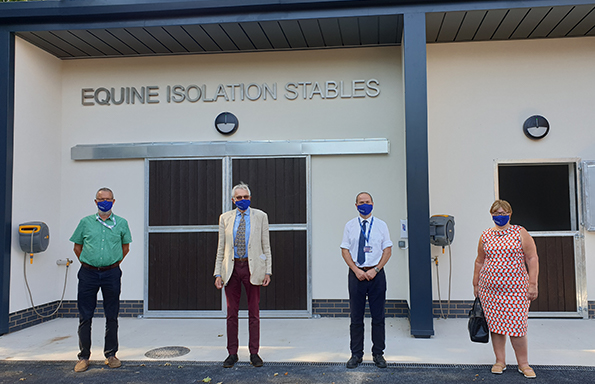 Anthony Hannay, Trustee of Lord Leverhulme's Charitable Trust, made a socially-distanced visit in September to the newly-completed Equine Isolation Unit at the Philip Leverhulme Equine Hospital in Leahurst, ahead of its first use by veterinary science students and equine patients at the start of the academic term.
The new Equine Isolation Unit will form a vital part of the intensive care facilities at the equine hospital, and creates a dedicated, state-of-the-art space to isolate horses and prevent spread of contagious disease.
Anthony Hannay, also a Liverpool alumnus, said: "We are very pleased with our investment in enhancing the facilities at the Philip Leverhulme Equine Hospital. We are delighted to have continued, over the last two decades, Philip Leverhulme's own long-standing support of teaching and treatment facilities at Leahurst and the University of Liverpool, and we are confident that this will be of great benefit to the welfare of horses, and the education of the equine vets of the future."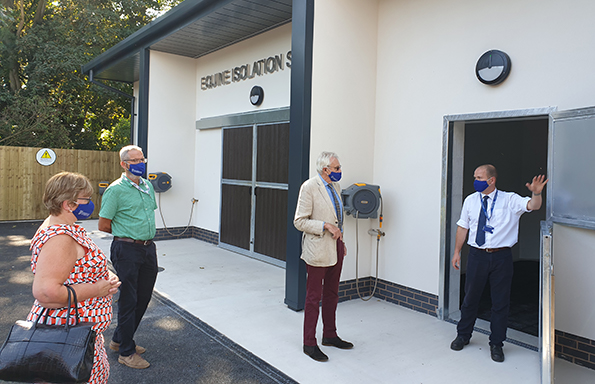 Professor of Equine Anaesthesia, Mark Senior, said: "This is the most advanced equine isolation unit in the UK, building on the learnings from 70 years of work at Leahurst, and from our colleagues in other equine hospitals and veterinary schools around the world. We are very grateful for the support of Lord Leverhulme's Charitable Trust, whose support has made this development possible."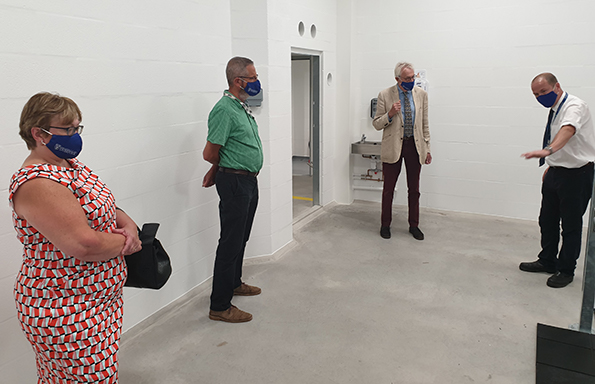 Professor Matthew Baylis, Executive Dean of the Institute of Infection, Veterinary & Ecological Sciences said: "This unit is essential to ensure we give the best clinical care to cases such as those that have developed serious post-operative complications and other cases with potential or actual contagious disease."
Professor Susan Dawson, Head of the Veterinary School, added: "That this project has been developed from planning stage to completion in just over a year is a testament to the exemplary work of all of those involved. The commitment of our supporters at the Trust, and by colleagues across the Institute and in Facilities, Residential and Commercial Services in delivering this project to budget and ahead of the commencement of teaching at Leahurst this September, set against a backdrop of the pandemic, is absolutely outstanding. We cannot thank everyone enough for their support, dedication and hard work."
The School of Veterinary Science in Liverpool was the first veterinary school to be part of a University, and has always been a leading education provider for the vets of the future. The School is unique among British universities in having two on-site working farms as well as two referral hospitals, and three first opinion practices. The Veterinary School consistently ranks as one of the best Veterinary Schools in the UK (3rd, Guardian, 2020) and one of the best anywhere in the world (9th, QS World Rankings, 2020).