Dr Margaret Hope Alston-Garnjost's Liverpool Legacy Story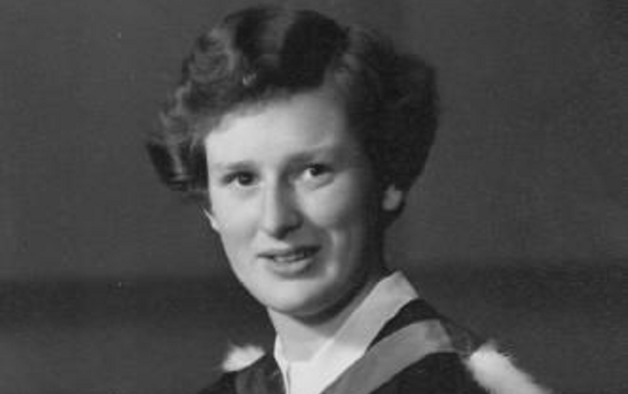 When the COVID-19 Student Crisis Support Fund launched in May this year, it benefited from a £100,000 legacy gift, bequeathed by the late Mr & Mrs Bertram Alston-Garnjost. As a University of Liverpool graduate, Margaret reached remarkable heights in her career and we are incredibly proud to share her story and the lasting impact she will have on the University.
Born in London to Pauline and Norman Alston in 1929, alumna Dr Margaret Hope Alston-Garnjost was a talented physicist who passed away in February 2019. Described by her family as 'always cheerful and kind', Margaret lived a full life, enjoying personal pursuits including flying, camping, and boating.
In 1955, Margaret earned her Doctorate in Physics at the University of Liverpool, where she was encouraged to further her knowledge in the United States. With recommendations from the University of Liverpool, Margaret secured a position at the Lawrence Laboratory, University of California, Berkeley. It was here where she embarked upon her remarkable career, and met her future husband Bertram, who she married in 1966.
At the University of California, Margaret co-authored several articles with her manager Dr Luis Alvarez, who won the Nobel Prize for Physics in 1968. Margaret worked on the bubble chamber and wrote many papers on this topic, with much of her research still available today. It is believed that Dr Alvarez's achievements would not have been possible without the contributions made by Margaret and his team.
The University of Liverpool is most privileged to have been remembered by Margaret and Bertram in such an extraordinary way. In the context of COVID-19, their generosity will make an immense difference, enabling the University to reach its most vulnerable students in need of vital support during these uncertain times. Through this incredible donation, Margaret and Bertram's passion for education and life will leave a lasting legacy.
If you would like to find out more about legacy giving by visiting the legacies page. For further information on supporting the COVID-19 Student Crisis Support Fund, please click here.