COVID-19 campaign donor stories: Carolyn Jones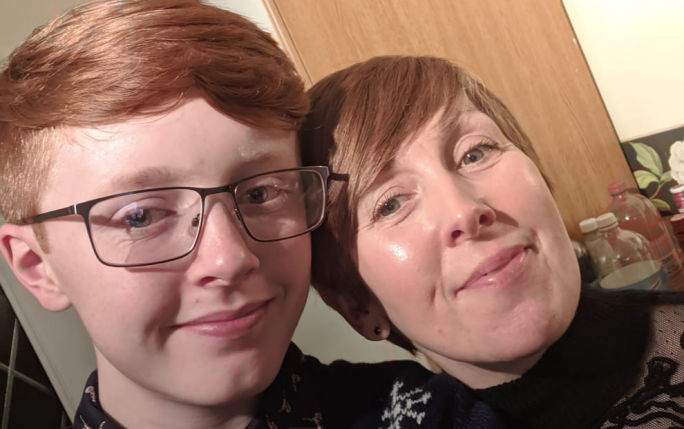 The University of Liverpool's COVID-19 Emergency Response Campaign has welcomed support from all corners of the world. In a supporter story much closer to home, we spoke to Carolyn Jones, Legacy Officer at the University, to find out the reason behind her decision to set up her own fundraising page to support the University's COVID-19 Research and Student Crisis Support Funds.
As member of the Development and Alumni Relations team, Carolyn first started working at the University in March last year. Describing her experience since then she said: "I'm in awe of the sheer size of the University, the care it gives to each student's experience and how in turn society can benefit from our amazing supporters' generosity".
Carolyn is no stranger to fundraising having worked as a fundraiser in a children's hospice for seven years. She said: "I'm an advocate for education, but I've never been to University. I've always known the University has a fantastic reputation, and has made massive contributions in areas such as medicine and research. When working at the children's hospice, I not only admired our in-house care team, but recognised the working partnership between the University and Alder Hey Children's Hospital NHS Foundation Trust".
In the month of September, inspired by the support already received by the University's alumni and friends, Carolyn decided to take fundraising into her own hands and she didn't let the COVID-19 restrictions stop her. She shared: "Due to the restrictions I was limited to what I could do, so I decided to give up something I consider a 'treat'. I love a few glasses of red wine at weekends, so I decided rather than buying wine or beer, I'd put my money towards a much better cause, and invite friends to join in by buying me a virtual drink."
Carolyn set up a JustGiving page in support of the University's COVID-19 Emergency Response Campaign. She said: "Fundraising pages and personal challenges are a great way to help personal wellbeing and support causes you are passionate about. Online fundraising is a great way to share your fundraising initiatives with friends and family on social media, so everyone and anyone can get involved."
Reflecting on the past month's challenge Carolyn said: "It was difficult at times, but it's a case of mind over matter. Like being on a diet, you have to think of the benefits. Plus, I've had some great support from my work buddies, friends, and family who have spurred me on!"
This challenge has inspired Carolyn to do more. Once it is safe to do so, she would like to swim the equivalent of the English Channel to support another area of the University. She told us: "We find ourselves in very peculiar times, it's a time to be thankful for what we have and try to help in whatever way we can. I'm a firm believer that every penny counts, as they can add up to something big!"
We are extremely proud of Carolyn, and all supporters who have generously supported the COVID-19 Emergency Response Campaign. Their support has been invaluable in overcoming the many challenges of coronavirus.
If you would like to find out more about how to fundraise for the University or if you would like to share your story, please get in touch with us by emailing: giving@liverpool.ac.uk.
If you would like to make a gift towards the COVID-19 Emergency Response Campaign please click here.