With a little help from our Alumni & Friends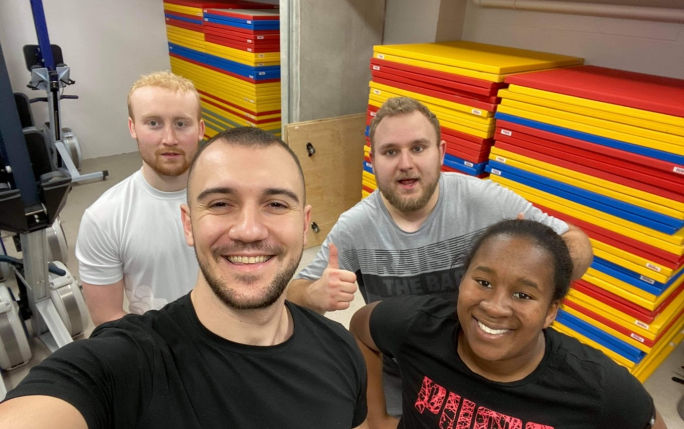 The Alumni and Friends Fund is at the heart of Liverpool's community. Your support has been vital in creating advanced learning and teaching facilities, supporting life-changing research and delivering a world-class education to all our students.
The Area of Greatest Need fund provides support across all our fundraising priorities and allows us to respond to the most urgent needs of our student and university community. It also grants support to student clubs and societies, as well as academic departments through an annual application process. Thanks to the support of alumni and friends worldwide, we were able to support eight projects this year. Read more about them below.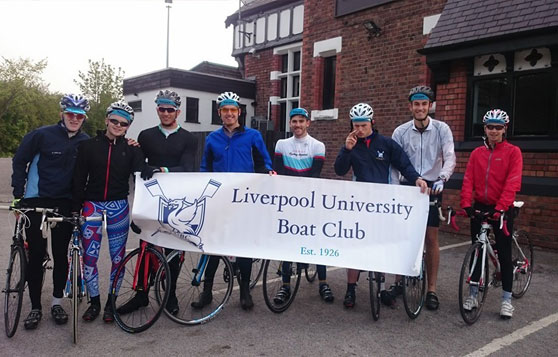 Liverpool University Boat Club (LUBC)
The Liverpool University Boat Club Men's Squad have used 'Croker' blades for a number of years and after a lot of use, these blades became worn, and two snapped over the past year due to wear, leaving them unusable. With their spare blades being used to their limit, new blades were a necessity, as the risk of the other blades snapping was very high and it left the team vulnerable during competitive races. For this reason, the Club was looking to purchase the industry standard 'Concept 2' blades, but they would not have been able to afford it without the help of the Alumni and Friends Fund. Thanks to the Fund, the club was able to purchase five brand new pairs of 'Concept 2' blades, as well as their first full set of smoothie sculling blades. Although the rowing season was cut short, the team was able to take part in friendly races with local clubs and a few competitions – the club even took home five medals!
"Thank you to all supporters of the Alumni and Friends Fund! Your generosity greatly enhances and improves the societies and sports within the university, and allows them to develop the society further and achieve their full potential. Your kind donation will greatly improve the performance and capability of current and future LUBC men's squad."
–Sean Young, LUBC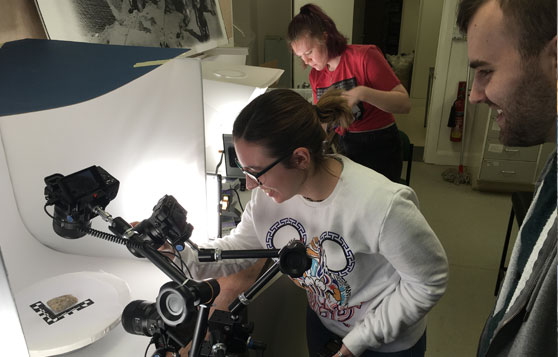 The Photogrammetry Team
The Photogrammetry team is a group of students and early career researchers across different courses, levels and specialisation in the Department of Archaeology, Classics and Egyptology (ACE). Photogrammetry is a method by which virtual 3D models can be constructed from multiple 2D photographs and it is an important skill for archaeologists and anyone working in subjects related to cultural heritage. The funding received from the Alumni and Friends Fund has been used to purchase vital equipment such as cameras and specialised lenses, which have made it possible for more students to participate in the team's activities, and for the team to become a permanent fixture for current and future students. The team will also be able to build an exhibition in the Victoria Gallery & Museum called "Creatures of the Nile", which will be complemented with an augmented reality app populated by the models that the photogrammetry team builds.
"We would like to thank alumni and friends of the university and all those how have coordinated those funds to make this possible. It will make a huge difference to the student experience in the ACE department .The effects of this funding will be felt across the Garstang Museum, the ACE department and even the University as this highly active team of ambitious students plan to make their presence felt in the form of teaching materials, research and public exhibitions. This funding will have immeasurable impact on student and staff activities and we cannot thank you enough for helping us on our way. Thank you again!"
–Dr Ardern Hulme-Beaman
University of Liverpool Judo Club
The Judo Club were recently able to relocate to the sports facility at the Greenbank Halls of Residence thanks to the financial help of the Alumni and Friends Fund. The relocation was necessary to provide the Judo Club with more space, so that new members can join, and to allow for extra training sessions for the club as well as freeing training slots for other sports clubs. The move would not have been possible without the funding to purchase more mats to train safely. The club were able to acquire 172 m2 worth of mats, which can now accommodate an extra twenty members. The mats are of excellent quality and will benefit students for many years to come.
"On behalf of myself and the Judo committee we want to thank the Alumni and Friends Fund supporters so much for taking the time to assess our application and allocate us the grant. We are very excited for the next step in life of the Judo club and it couldn't have been done without the grant and the support from yourselves! We can't thank you enough."
–Mustafa Elsherkisi, Judo Club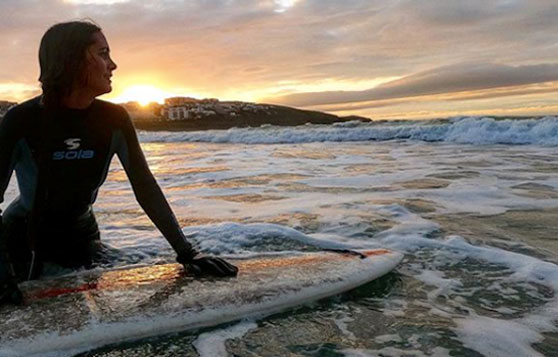 University of Liverpool Surf Club (LivSurf)
The LivSurf club offers great opportunities for students interested in trying the sport and organising regular trips to the beach throughout the academic year. This is made possible and affordable for all, thanks to the equipment that the club owns, such as wetsuits and surf boards. However, over the years the eqipment has become worn and has had to be discarded. Surfing equipment is very expensive, and the club was not able to replace the damaged items until they received the Alumni and Friends Fund award. The funding was used to purchase ten new wetsuits which are now ready to be used by students. More funding has also been set aside for new surf boards, which committee members will be able to use in the next academic year.
"We are absolutely thrilled to be receiving the grant and cannot wait to share the new equipment with our club members. This equipment will benefit the surf club for many years to come and means a lot to us, especially due to the increasing interest in the club. It means we can continue expanding the club and providing a comfortable experience for people who want to try surfing. We will take extremely good care of it to ensure it lasts for many years and benefits as many people as possible. Thank you so much. "
–Victoria Wilson, LivSurf
*Photograph not from PCBC, but a previous conference supported by the Alumni and Friends Fund Grant
The Postgraduate Bioethics Conference (PGBC)
The PGBC is a popular, inter-disciplinary conference for postgraduates with interests in bioethics. The conference invites students to apply to present a paper, a poster, be part of a soapbox debate, or to attend as a delegate. Student organisers of the conference applied for the Alumni and Friends Fund grant to cover some of the costs of the conference to ensure that the conference is as financially accessible as possible, which is important because postgraduate students often have very limited, if not no, budget allowance for conferences and may otherwise find the cost of attending a conference prohibitive.
"We would like to thank the supporters of the Alumni and Friends Fund for the financial assistance that you have provided to us. The grant allows us to offer more delegates the opportunity to attend the conference. This means that a greater number of people will benefit from being able to present and receive feedback on their work, form networks with colleagues from other disciplines and institutions, and develop key career skills"
–Amber Pugh
The conference has been rescheduled for 2021, due to COVID-19.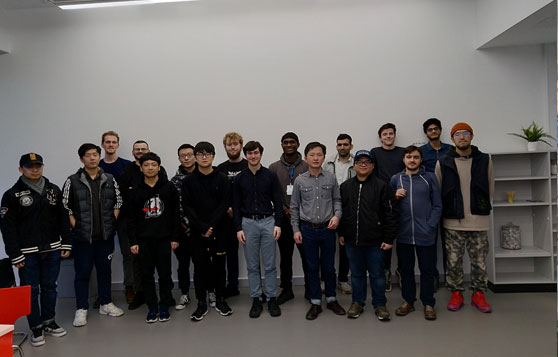 Coding and Robotics Society
The Coding and Robotics Society applied for funding to help them purchase necessary equipment to build a robot to compete in the ICRA RoboMasters AI Challenge 2020. The ICRA RoboMaster AI challenge is a yearly competition. Participating teams must put together a fully autonomous team of two robots equipped with AI to allow them to navigate a dynamic environment and compete in a battle arena style challenge against other teams of robots in order to win matches. This is the team's first time competing in the AI challenge.
"We are incredibly grateful for the support of the Alumni and Friends Fund. Without your support it would have been incredibly difficult to get the project off the ground. As a long term investment into the society this will both allow us to compete in future years as well as opening doors in the area of AI and robotics for members of the society as this purchase will allow us to provide our members with hands on experience of autonomous robotics"
–Christopher Rowe, Coding and Robotics Society
The ICRA RoboMasters AI Challenge has been postponed until 2021, due to COVID-19.

*Photograph from the 2018/2019 IVSA Liverpool-Milan exchange
IVSA Liverpool
IVSA Liverpool are part of a global organisation called the International Veterinary Student Association (IVSA). The association provides veterinary students with opportunities to further their learning and acquire specialised skills. One of these opportunities is their annual European exchange, which they organise in collaboration with other European IVSA chapters, giving Liverpool students a chance to visit other veterinary schools, attend workshops and experience a different culture. The Alumni and Friends Fund previously supported the IVSA exchange in Milan in the 2018/2019 academic year, and last year it awarded funding to the 2019/2020 exchange project with IVSA Lublin in Poland, thus lowering the costs of the trip for all participants and allowing more students to take part in the exchange.
"We would like to express our deepest thanks to the Alumni and Friends Fund for their support of IVSA Liverpool last year, and in this coming year. The money donated last year allowed us to take a group of Liverpool students to IVSA Milan, whose veterinary students study at the Lodi campus just outside the main city. Over there we were able to learn about parturition of dogs and had lectures on different exotic species of tortoises that are native in European countries yet not found in the UK. This year, IVSA Liverpool are visiting IVSA Lublin in Poland, and the activities planned promise to provide an invaluable experience that students would not otherwise get if travelling outside of IVSA, both on an academic and cultural level."
–IVSA Liverpool
The IVSA exchange has been postponed until 2021, due to COVID-19.

University of Liverpool Canoe Club (LUCC)
Last year, the University of Liverpool Canoe Club applied for the Alumni and Friends Fund grant and were awarded funding to purchase new safety equipment, including buoyancy aids, carabiners, first aid supplies, air bags, and much more. The financial support received will allow them to replace old and missing items, so that the club will be able to continue to practice safely, knowing that they can rely on their equipment in difficult situations.
"On behalf of all the members of the Canoe Club, I would like to say a huge thank you for choosing to support our club in our endeavour to make kayaking a safe and enjoyable activity for all students at the university. This funding will help us develop as a club at all levels, helping members be more confident using safety equipment when either rescuing other kayakers or being rescued themselves after capsizing, and in trying new skills on river."
–Lucy Gill, LUCC
We would like to thank all donors and supporters for their generosity, which has made these and many other student projects and ideas possible. Your support encourages students to grow their passion, creativity, and ambition through a variety of initiatives and opportunities that would not otherwise be available to them.