Name a Seat Stories: Xiaoxiao Hou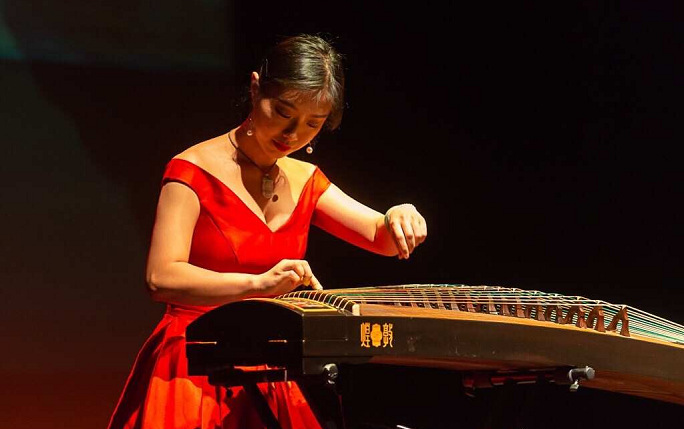 To celebrate our new Teaching and Performance Centre, alumni and friends are invited to name a seat in the 400-seat Tung Auditorium. In another of our Name a Seat stories, PhD student and professional Guzheng player Xiaoxiao Hou shares the story behind her gift.
Xiaoxiao is currently completing a PhD study at the University of Liverpool, exploring how music influences people with dementia. Alongside her studies, Xiaoxiao has grown up playing music, having started playing piano at three years old and Guzheng at five.
After moving to the UK seven years ago, Xiaoxiao has lived in five English cities before finding home in Liverpool. She said: "Now I am gathering strength here, in my beloved Liverpool. I have met a lot of great and intelligent people, and I am starting to build a professional life here. Besides doing research on Music and Dementia, I have had several performances and concerts in the Victoria Gallery & Museum and cannot wait to create new memories in the Tung Auditorium!"
Xiaoxiao adds: "Every time I pass by the building site of the Tung Auditorium, I am always moved by the progress of the construction. Every day it gets more real."
"I am proud of growing within this culturally rich and loving community, which also in turn shapes my identity as a new Liverpolitan. Like the caption says, "Liverpool Changes You, So You Can Change the World. I just cannot imagine what life would be without music. And what would my life be without all the experiences and memories in Liverpool?"
In addition to her gift, Xiaoxiao recently graced the Yoko Ono Lennon Centre supporters with a performance in the University of Liverpool's Online Celebration of Music Performance Event. You can watch Xiaoxiao's performance from 40:37 mins or the whole event below:
We are very thankful to Xiaoxiao and all of the supporters of our Name a Seat campaign.
Thanks to the generosity of our supporters, we have almost reached our fundraising target for the new Yoko Ono Lennon Centre, with just £900,000 left to raise. The Tung auditorium will be located at heart of the new centre when it opens in late 2021. We are inviting you to play a leading role in this project by naming a seat. It is not only a personal way to leave your mark on the University but it will support us in realising our goal to enable students to continue to pursue their artistic and academic dreams.
To find out how you can play your part, visit our Name A Seat campaign page.
We've saved you a seat...now put your name on it.